Custom Search
DISGUSTING
Jim Stone
March 31, 2015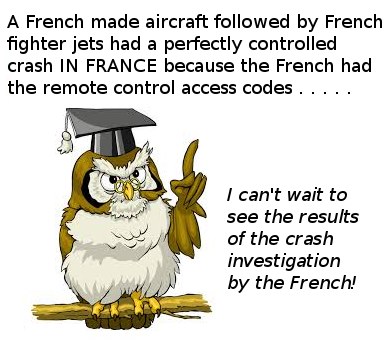 Great. JUST GREAT. Now we get to stand by as top government manipulators play with the mind of a girlfriend to see what they can get it to spew. Eventually, they will have her spewing about Islam. The biggest statement they are using now is that at one time the "crash pilot" told her that he wanted to change the world. Perhaps that is a true statement, but how many people say that? To say that means he is going to crash a plane is B.S.
Additionally, they are lying about the antidepressants. This pilot was not depressed and not taking psych meds. Absolutely nothing of substantive proof is out there about this, which means he simply was not taking them. EMPTY ZOLOFT BOX OR IT IS ALL B.S. But the clincher is THE COCKPIT DOOR, WHICH HAS A KEYPAD IN THE PASSENGER COMPARTMENT THAT MAKES IT IMPOSSIBLE FOR THE PILOTS TO LOCK ANYONE OTHER THAN A PROSPECTIVE HIJACKER AND PASSENGERS OUT. THE ENTIRE CABIN CREW HAS THE PASSWORD AS WELL AS THE PILOTS AND CAN GET IN EVEN IF THE PILOTS KEEP THE DOOR LOCKED FROM THE COCKPIT SIDE. This proves Remi lied lied LIED, why and HOW did he lie?
"When the flight crew does not respond to requests for entry, the door can also be unlocked by the cabin crew, by entering a two to seven-digit code (programmed by the airline) on the keypad, installed on the lateral side of the Forward Attendant Panel (FAP)".
MATT DRUDGE, I AM CALLING YOU OUT. IF YOU REALLY ARE MISSING THIS YOU NEED A CRANIAL ENEMA. DITTO FOR ANYONE ELSE WHO CLAIMS TO REPORT THE TRUTH. Even if you don't believe the remote control capabilities, it is NOW PROVEN THAT THE SUICIDE PILOT STORY IS A BIG FAT LIE, they faked the recording, that is all there is to it and to keep parroting that lie is FRAUD. YOU HAVE A FRAUDULENT WEB SITE DRUDGE. YOU REPORT LIES, THE A320 OPERATOR MANUAL PROVES IT.
And what other time was there a proven fake recording made for a plane crash? Why, the call from Cee Cee Lyle, flight 93, on 911.
CeeCee's call sets a STARK precedent here:
Permanent: 911 Flight 93 phone call busted. CeeCee Lyle read her arab incriminating yet fully scripted phone call from the ground, in a call center, and if you listen to the call, you can hear her coach say "that was great!" after she finishes speaking. You can also hear a coach or manager say "allright" in the background of the enhanced version, and AFTER THAT you can hear her coach say "sorry" for saying "that was great" too loud and possibly having it be audible in the message. CeeCee Lyle flight 93 911 phone call enhanced and original This kills the entire arab/911 meme, obviously the calls were faked. But that won't do it for Drudge, BET ON IT!
UPDATE: I pay no attention to Gordon Duff, but got one of his reports in the mail. He is on board with this completely and passed the sniff test overwhelmingly this time, having also spoken of the full remote takeover abilities on this crashed aircraft. Remi is a liar, NO IFS OR BUTS, and if any truther is not talking about remote control and the fact that the cockpit door can't lock out ANYONE on the airline staff, they are trolls, now is a good chance to ditch them. LITMUS TEST TIME.
http://82.221.129.208/