One does not simply try to out-troll the king of trolls. https://twitter.com/PressSec/status/1085978219872964608 …
Sarah Sanders ✔ @PressSec
President @realDonaldTrump's letter to @SpeakerPelosi concerning her upcoming travel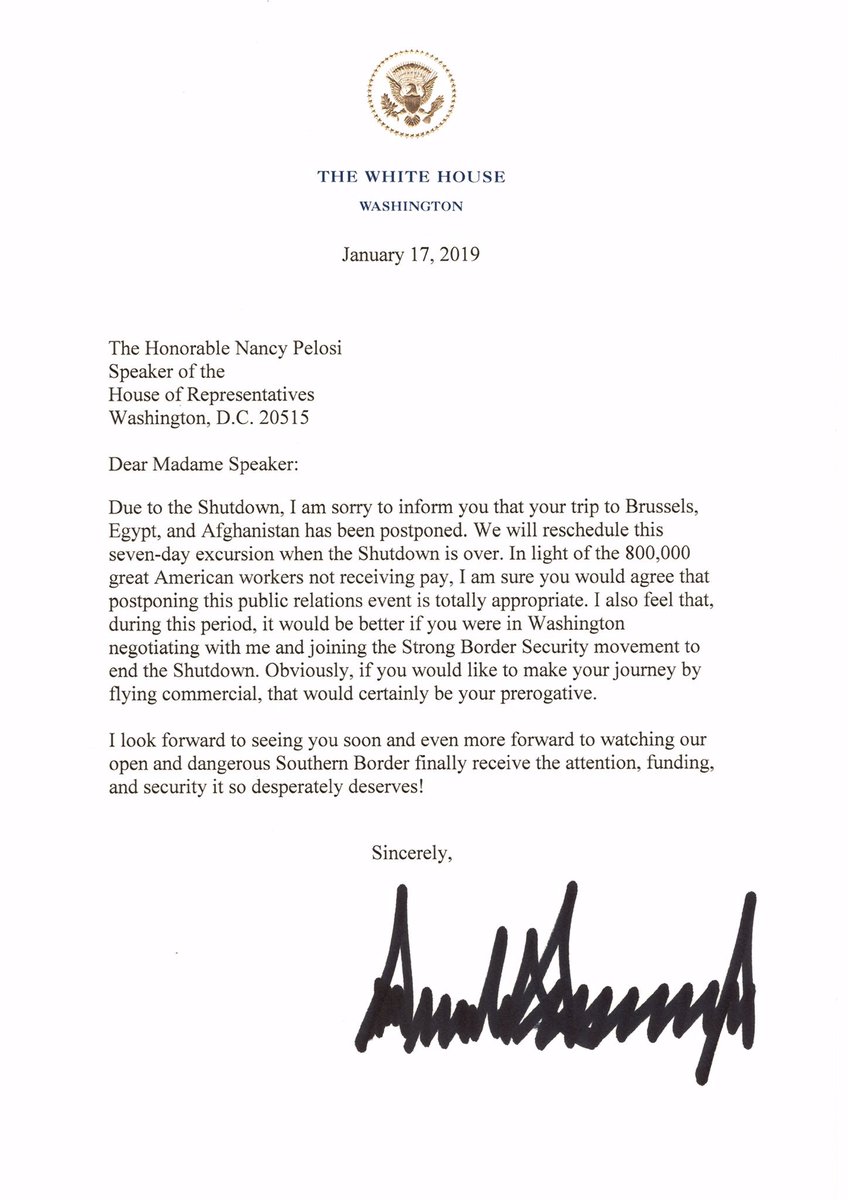 "[The Democrats] went out there thinking that they could get away with this stunt, and it was a stunt. And [Trump] called them on it. And now they look like, you know, fools, to be perfectly honest," Lord said. "I mean, they've got red faces.
"I mean, this is childish behavior. They got caught at what they're doing. They went and partied in Puerto Rico. [Pelosi] went off to Hawaii to a resort for Christmas. I mean — they're making one misstep after another," Lord noted further.
"And this is serious business — serious business. And they ought to stay there and get the job done," he added, referring to more than 30 Democrats who jetted off to Puerto Rico last week for a sun-drenched weekend with lobbyists, as the partial government shutdown continued.
"If you really care about the people, you'd be at least in Washington. Even if you can't come to an agreement, you'd be here saying, 'We've got one more chance at this. Let's try it again,'" Ingraham said.
Joel Rubin, a Democratic strategist and former deputy assistant secretary of state for legislative affairs, told Ingraham that "Pelosi is setting the frame for the discussion."
"And Donald Trump today, he pushed back very aggressively and effectively. And I think this doesn't make anybody look good. Right now we have a shutdown. We need there to be a negotiation. There needs to be a deal," Rubin said. "But this kind of tit-for-tat really makes Washington look bad."
Byron York, a conservative columnist and pundit with the Washington Examiner, told the panel that Democrats are behaving the way they are because they believe they are "winning" the public relations battle over the shutdown.
Citing several polls published this week that appear to show most of the public blaming POTUS and Republicans, York added, "If it were the other way around or even equal, I do not think Democrats would have been doing this." — Jon Dougherty
https://thenationalsentinel.com/2019/01/18/memo-to-pelosi-you-cant-out-troll-the-king-of-trolls-potus-trump/