Custom Search
HENEGHAN: Obama Revealed as a CIA Agent - Greg Craig a Scurrilous Scumbag
Tom Heneghan
by Tom Heneghan
International Intelligence Expert
Wednesday February 25, 2009
United States of America – Tonight we bring you the Wayne Madsen Reports on Barack Obama and his White House legal counsel Greg Craig, both of whom are operating together to pursue the interests of the Bush-Clinton Crime Family Syndicate.
Obama has been well scripted to be what he is today: a front man, a con man and puppet whose mission is to take the fall for the bad U.S. economy, which will help the New World Order cabal rehabilitate the Bush Crime Family.
Stay tuned for our next intelligence briefing, which will include an update on the status of the Wanta-Reagan-Mitterrand Protocols, including the death threats that Ambassador Leo Wanta has been receiving for the past three days, the status of the AIG-Citibank-Federal Reserve Ponzi Scheme, the patriotic U.S. Military's outrage directed against the TREASONOUS criminal Federal Reserve, and the link between the Bernard Madoff Ponzi Scheme and Sir R. Allen Stanford Ponzi Scheme.
Note: Remember, folks, the U.S. economy can easily be saved if President Obama would just nationalize the banks on a temporary basis, bring the toxic derivatives out of these banks and put them in Bankruptcy Court where the shareholders of the banks could then sue the crooked banks and retrieve their investments forthright.
Believe me, folks, this would immediately trigger a massive repatriation of U.S. Treasury funds from the secret offshore proprietary accounts that hold TRILLIONS of dollars of STOLEN U.S. Treasury funds.
Of course, this would also mean the end of the Bush-Clinton Crime Family Syndicate.
As of today, Obama and Federal Reserve Chairman Bernanke are dancing around this.
Could it be the KHAZARIAN Jew dominated Federal Reserve and its media enablers are afraid the American People will find out that both the U.S. Treasury and the Federal Reserve ILLEGALLY insured the bogus credit swap derivatives that have bankrupted both AIG and Citibank, as well as Bank of America.
Well you see, folks, you just found out the truth anyway by reading the above sentence.
When the Federal Reserve gives free money to both Citibank and AIG that, folks, is called a criminal Ponzi Scheme aka a major conflict of interest.
Just a final observation by the author of this intelligence briefing:
What could really turn the U.S. economy around is the brilliant plan of former Vice President, now duly elected year 2000 President Albert Gore Jr. to create a whole new "green" economy and eliminate our dependence on foreign oil by placing an excise tax on gasoline and offsetting that consumer cost by eliminating the entire salary payroll tax altogether. That way the average American could keep most of the money he/she earns and revitalize the economy by investing in more efficient non-petroleum based transportation.
Then again, Al Gore is a Democrat and a great American, not a socialist like Obama. Al Gore, of course, was never a member of the Central Intelligence Agency (CIA) either, as was Bush, Clinton and now Obama.
Enjoy reading these reports from journalist Wayne Madsen and we look forward to bringing you our next major intelligence briefing this weekend.
God Bless You All!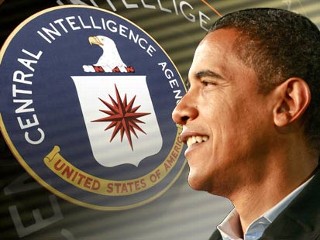 WAYNE MADSEN REPORT:
http://www.waynemadsenreport.com/
February 24, 2009 -- SPECIAL REPORT. Barack Obama's post-graduate CIA employment
After graduating from Columbia University in 1983, Barack Obama went to work for a firm called Business International Corporation (BIC), a firm that was linked to economic intelligence gathering for the CIA. For one year, Obama worked as a researcher in BIC's financial services division where he wrote for two BIC publications, Financing Foreign Operations and Business International Money Report, a weekly newsletter. An informed source has told WMR that Obama's tuition debt at Columbia was paid off by BIC. In addition, WMR has learned that when Obama lived in Indonesia with his mother and his adoptive father Lolo Soetoro, the 20-year-old Obama, who was known as "Barry Soetoro," traveled to Pakistan in 1981 and was hosted by the family of Muhammadmian Soomro, a Pakistani Sindhi who became acting President of Pakistan after the resignation of General Pervez Musharraf on August 18, 2008. WMR was told that the Obama/Soetoro trip to Pakistan, ostensibly to go "partridge hunting" with the Soomros, related to unknown CIA business.
The covert CIA program to assist the Afghan mujaheddin was already well underway at the time and Pakistan was the major base of operations for the CIA's support. Obama also reportedly traveled to India, again, on unknown business for U.S. intelligence. WMR has been told by knowledgeable sources that Obama has, in the past, traveled on at least three passports: U.S., Indonesian, and British. BIC also maintained a European subsidiary, Business International S.A., in Geneva. BIC had long been associated with CIA activities since being founded by Eldridge Haynes, a self-professed liberal Democrat. The BIC headquarters was located at the prestigious address of 1 Dag Hammarskjold Plaza in Manhattan. BIC held a series of off-the-record, no press, meetings between top U.S. business executives and top government officials, including the President, and the Secretaries of State, Defense, Treasury, Commerce, and Labor; the Attorney General, Senate leadership, and the heads of the Export-Import Bank and the Inter-American Development Bank. BIC held international meetings in locations like Brussels and Mexico City.
In 1961, a BIC meeting in New Delhi was attended by Indian Prime Minister Jawaharlal Nehru and Foreign Minister Morarji Desai, who would later become Prime Minister.One month after Leonid Brezhnev, other Soviet Communist Party officials, and KGB chief
Vladimir Seminchastny conspired to overthrow Soviet Communist Party General Secretary and Premier Nikita Khruschchev, Haynes was in Moscow in November 1964 sponsoring a business conference between Khrushchev's successor as Premier, Aleksei Kosygin, and top U.S. businessmen. In the years following the conference, Haynes often crafted together other U.S.-Soviet business meetings and became close to Kosygin. In November 1971, Haynes put together another U.S. businessmans' conference with Kosygin at which Commerce Secretary Maurice Stans was in attendance as President Richard Nixon's personal envoy. The president of BIC at the time was Orville Freeman, a former secretary of agriculture during the Kennedy and Johnson administrations. Joining Freeman in Moscow were officials of DuPont, IBM, General Electric, Union Carbide, and Westinghouse.
The Moscow meeting also dealt with the opening up of Soviet natural gas supplies to the United States. Haynes resigned as chairman of BIC in 1970 and retired to St. Croix. He remained as chairman until his death of 1976. In St. Croix, Haynes started the Virgin Islands Economic Development Bank. During the time Obama worked for BIC in 1984, the firm had a full-time analyst tracking events in Nicaragua. The Reagan administration's Iran-contra covert operations would begin in a matter of months from the time Obama went to work for the firm. BIC appeared to have had established business connections with Nicaragua's Sandinista government in order to protect U.S. banking and other business investments in the country.A business card for a BIC researcher for Europe and the Middle East was obtained by WMR from declassified CIA files.
In 1985, BIC named John Haley as chairman and chief executive officer succeeding Hugh Parker, who was Obama's ultimate boss in 1984. Haley had previously served as deputy chairman of Kissinger Associates, Inc. founded by former Secretary of State Henry Kissinger. Although Kissinger endorsed Obama's GOP opponent John McCain in the 2008 election, Obama sought advice from Kissinger during the campaign and later named Kissinger as his special envoy to talk to Russian Prime Minister Vladimir Putin. BIC's connections to the CIA were revealed by Haynes' son, Elliott Haynes, who co-founded BIC with his father. Elliott Haynes was quoted in a December 27, 1977, New York Times article, as saying that BIC "provided cover for four CIA employees in various countries between 1955 and 1960." The same article revealed that the CIA had one agent devoted to liaison with the press who worked out of the CIA's Manhattan office.A BIC Business Executives Report from 1975 and maintained in CIA files describes the 1975 "constitutional coup" against Australian Labor Prime Minister Gough Whitlam but makes only single reference to CIA culpability in the affair.
WMRhas obtained from CIA files, a copy of a BIC corporate brochure from 1975 that lists the officers of the corporation: Edridge Haynes, President; Orville L. Freeman, President; Elliott Haynes, ExecutiveVice President; William Persen, Senior Vice President; Richard P. Conlon, Vice President; Jose A. Mestre, Vice President; Norman M. Wellen, Vice President and Treasurer; and Robert S. Wright, Vice President. Directors named in the brochure are: Robertson F. Alford, Norfolk, Connecticut; R. Stanton Avery, Chairman, Avery Prodcucts Corp., San Marino, CA.; Atherton Bean, Chairman, International Multifoods, Minneapolis; Ambassador Sol M. Linowitz, Senior Partner, Coudert Brothers, Attorneys, Washington; Lord Pilkington, Chairman, Pilkington Bros., St. Helens, UK; and C. William Verity, President, Armco Steel Corp., Middletown, OH.Linowitz, who was once chairman of Xerox, was the U.S. diplomat who negotiated the return of the Panama Canal to Panama during the Carter administration. Verity was Secretary of Commerce in the Reagan administration between 1987 and 1989. From 1987 to 1984, Verity chaired the U.S.-U.S.S.R. Trade Economic Council made up of U.S. and Soviet business leaders.Freeman was, in addition to being secretary of agriculture, a former Governor of Minnesota. Although he is not confirmed as the same Richard P. Conlon who served as a BIC Vice President, Richard P. Conlon was a former journalist for the Duluth Herald & News and the Minneapolis Tribune.
Conlon arrived in Washington in 1963 on a congressional fellowship while Freeman was secretary of agriculture. Conlon went on to work as a press assistant to Senator Walter Mondale and he was also close to Vice President Hubert Humphrey. Conlon became the head of the powerful Democratic Study Group in the House of Representatives. Conlon opposed U.S. military assistance to the Nicaraguan contras and the naval presence in the Persian Gulf ordered by President Reagan as violations of the War Powers Act. On June 19, 1988, Conlon died in a boating accident in the Chesapeake Bay.
He was knocked overboard and his body was not discovered until four days later. Chesapeake boating accidents had already claimed the life of CIA clandestine officer John Paisley in 1978 and would later claim the lives of former CIA director William Colby and Dick Cheney friend and Export-Import Bank chief and Assistant NATO Secretary General Philip Merrill. The BIC brochure describes the firm's Global Program, which included five elements: the Corporate Headquarters Program operating from New York in conjunction with centers in Washington, DC, Chicago, San Francisco,Geneva, and Tokyo; the European Regional Program operated by Business International, S.A. in Geneva; the Latin American Regional Program operated out of Geneva; the Asia-Pacific Regional Program operated out of Tokyo and Hong Kong; and the East European Service operated out of Geneva and Vienna.BIC offices were located, in addition to New York, in Chicago (1 IBM Plaza), Geneva (12-14 chemin Rieu), Hong Kong (201 Asian House), Montevideo, Uruguay (Gallerias Diri), San Francisco (600 California Street), Tokyo (Pola Aoyama Building), Vienna (Prinz-Eugenstrasse 4), Washington (1625 Eye Street, NW), Buenos Aires (Cia. de Asesores Latinoamericanos S.A.), Bombay, London, Mexico City, Paris, Rio de Janeiro, and Sydney. There were also BIC "correspondents" in 50 other cities around the world. BIC also became involved in tracking terrorist and security threats to air passengers, especially after the 1985 hijacking of TWA flight 847 to Beirut while the plane was en route from Athens to Rome. BIC described Athens and Beirut as the world's most dangerous airports, followed by Karachi, New Delhi, Manila, Tehran, Tripoli (Libya), Conakry (Guinea), Lagos, and Yaounde (Cameroon).
In 1986, BIC was bought by the Economist Group in London and its operations were merged with the Economist Intelligence Unit (EIU). There have been a number of reports that the EIU works as closely with Britain's MI-6 intelligence service as BIC once worked with or for the CIA. One of BIC's directors was the late Lord Pilkington, who was also a director of the Bank of England. Obama's work for a company having ties to the CIA barely registered a blip on the 2008 presidential campaign radar screen. At the very least, Obama helped in providing economic intelligence to the CIA as a contract employee. At most, Obama was, like previous BIC employees who operated abroad for the CIA, a full-fledged non-official cover (NOC) agent. Since President Obama has backpedaled on CIA renditions and torture, as well as warrantless electronic surveillance by U.S. intelligence, he owes the American people a full explanation of the circumstances behind his being hired by BIC, what his job actually entailed, and whether he continued to have a relationship with BIC or any other CIA operation while attending Harvard Law School and thereafter.
CONSPIRATORS
White House Counsel Greg Craig and
President Obama embrace AP Photo/Ron Edmonds
February 20-22, 2009 -- White House Counsel Greg Craig should resign over conflicts-of-interest President
Obama's Counsel, Greg Craig, has been given until February 25 to arrive at an agreement with lawyers for Karl Rove and Justice Department prosecutors on whether Rove must testify before the House Judiciary Committee on issues pertaining to the prosecution of former Alabama Democratic Governor Don Siegelman by the George W. Bush Justice Department. Bush had earlier asserted executive privilege in protecting Rove from testifying. The decision by the U.S. Court of Appeals for the District of Columbia denied Craig's original requested deadline of March 4 for the Obama White House to decide whether it will fight a decision by U.S. Judge for the District of Columbia John Bates, a Bush appointee, that Rove does not enjoy executive privilege in testifying before the House committee. Rove would also be asked to testify about the political firings of U.S. Attorneys. On February 18, 2009, WMR reported: "By urging Karl Rove and the House Judiciary Committee to seek a 'compromise' on the subpoena by the committee for Rove to testify before it on February 23, the Obama White House, and, specifically, White House Counsel Greg Craig are assisting in a cover-up of a major campaign financial scandal from the 2002 Alabama Republican primary and general election.
Craig is urging a compromise on the committee's subpoena of Rove to preserve executive privilege, while also protecting the legal interests of former President George W. Bush. WMR has now learned from extremely well-placed sources that Craig has major conflicts-of-interest in representing Barack Obama and the White House in the Rove matter. Bush's attorney in the executive privilege case involving not only Rove but former Bush White House Chief of Staff Joshua Bolten and former Bush White House Counsel Harriet Miers, is Emmet Flood, a partner with Craig's former law firm Williams & Connolly in Washington, DC. Moreover, Flood was special counsel to President Bush who ordered the Republican National Committee to withhold e-mails from the House Judiciary Committee on the U.S. Attorneys firings investigation.WMR haslearned from informed sources that Flood assisted Craig in the defense of President Bill Clinton in his impeachment over the Monica Lewinsky affair. In addition, we have learned that Craig is a friend of Rove. Craig has taken no steps to recuse himself from the legal matter concerning executive privilege, Bush, and Rove. The conflicts-of-interest do not end there. We have learned that former President Clinton arranged for Craig to give legal advice to both Siegelman and Dana Jill Simpson, Rove's chief accuser in the Bush White House political prosecution of Siegelman. Simpson was a top GOP attorney in Alabama who worked closely with the Bob Riley gubernatorial campaign and Rove in unseating Siegelman in a razor-thin election marked by election fraud. After it was agreed that Craig would not represent Simpson, that task fell to David Laufman, a Texas native who has acted as a "clean up" man for the Bush family in past scandals. WMR reported on September 14, 2007, that "Laufman reportedly served in the past in the CIA and "handled" such matters as the congressional probe of the 1980 October Surprise, in which George H. W. Bush, Bill Casey, Robert Gates, Donald Gregg and others allegedly conspired with Iran to keep U.S. hostages imprisoned until after the November 1980 election, thus tipping the scales against President Jimmy Carter. Laufman reportedly worked for CIA director Casey from 1981 to 1984." Craig, we have also learned, represented Senator Richard Shelby (R-AL), who came under suspicion for his financial stake in Doss Aviation, a major U.S. Air Force contractor. Another major shareholder in Doss is U.S. Judge for the Middle District of Alabama Mark Fuller, the same judge who tried Siegelman in his second federal trial and sentenced him to immediate prison after his conviction. From WMR's September 14, 2007, report: "Fuller . . . listed Oceaneering, Incorporated on his financial disclosure form as a firm for which he had a vested interest.
Oceaneering, prime Navy contractor used for salvaging ships and aircraft like Korean Air Lines 007 and the space shuttle Challenger, has one interesting past connection: a firm known as Zapata Offshore. It was the George H. W. Bush CIA proprietary firm that provided naval support for the 1961 Bay of Pigs invasion. "Flood represented Vice President Dick Cheney in the criminal probe of the leak of the identity of CIA covert agent Valerie Plame Wilson. The leak probe also involved Rove, who was, in addition to Cheney's Chief of Staff I. Lewis "Scooter" Libby, under investigation for leaking Plame Wilson's identity to the media. Craig has a long history in Washington of representing dubious clients. He represented John W. Hinckley, Jr., the would-be assassin of President Ronald Reagan. Hinckley's family were friends with Reagan's Vice President George H. W. Bush, who would have become President of the United States in March 1981 had Hinckley succeeded in killing Reagan. Craig represented UN Secretary General Kofi Annan in the UN Iraq oil-for-food probe headed up by Paul Volker, now a senior economic adviser to Obama. Craig represented the government of Panama during the 1990 trial of one-time CIA asset Manuel Noriega. Panama demanded the return of Noriega's money, much of it drug money earned from his participation in George H. W. Bush's CIA Iran-contra scandal, to Panama. Craig also represented two former Bolivian politicians, former President Gonzalo Sánchez de Lozada and former Minister of Defense Carlos Sánchez Berzaín, who fled to the United States after being indicted by the Evo Morales government for the murder of 67 protesters in 2003. In 1977, Craig represented John J. Kearney, the first FBI agent to ever be indicted, for illegal wiretapping and breaking and entering. Craig also represented former CIA director Richard Helms for perjury in his 1973 testimony concerning the CIA's role in the coup against Chilean President Salvador Allende.
Informed individuals involved in the Siegelman case have told WMR that President Obama should ask for Craig's immediate resignation as a walking and talking conflict-of-interest. In order to limit the damage from Obama's first major scandal, one that concerns a cover-up of Bush White House abuse of power and other crimes, Obama should ask Craig to resign immediately.
http://www.waynemadsenreport.com/
…
blog.myspace.com/tom_heneghan_intel