Custom Search
Lebanon warns of
srael has insisted such flights are needed to monitor Hezbollah guerrillas and has criticized the 12,000-strong U.N. peacekeeping force in southern Lebanon, UNIFIL, for not stopping weapons Israeli officials say have been flowing to the group.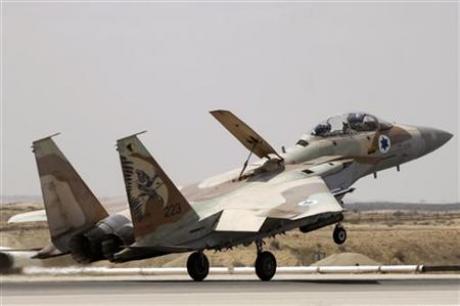 The overflights and any rearming of Hezbollah are a violation of Security Council resolution 1701, which ended the 34-day war between Israel and Hezbollah guerrillas in 2006.
"We hear a lot of Israeli threats day in and day out, and not only threats," Hariri told the BBC.
"We see what's happening on the ground and in our air space and what's happening all the time during the past two months -- every day we have Israeli war planes entering Lebanese air space," he said.
"This is something that has been escalating, and this is something that is really dangerous," Hariri said in a video posted on the BBC's website.
Israeli Foreign Minister Avigdor Lieberman, asked on Israel Radio about Hariri's comments, said the Lebanese leader was "a hostage to Hezbollah," an allusion to the Iranian-backed group's military power in Lebanon.
The BBC quoted Hariri as saying he feared the prospect of another war with Israel.
In a statement late last month, Israeli Prime Minister Benjamin Netanyahu said Israel was not planning any imminent attack on Lebanon, from where Hezbollah launched some 4,000 rockets at it during the 34-day war in 2006.
Last week, Syria accused Israel of pushing the Middle East toward a new war.
Lieberman replied at the time that Damascus would be defeated and President Bashar al-Assad would lose power in any future conflict. Netanyahu later reassured Syria that Israel sought peace.
The BBC quoted Hariri as saying that Lebanon was united and that the government would stand by Hezbollah.
"I think they're betting that there might be some division in Lebanon, if there is a war against us," it quoted him as saying. "Well, there won't be a division in Lebanon. We will stand against Israel. We will stand with our own people."
(Reporting by Adrian Croft in London and Jeffrey Heller in Jerusalem; editing by Tim Pearce)
www.reuters.com/article/idUSTRE6191P120100210