Custom Search
'Cutting the nose, lips and ears': Brutality against Afghan women at record level
Jan.. 11, 2014
INTRODUCTION
Read Here: http://www.rt.com/news/afghan-women-violence-surge-190/
Ron: This article is supposed to make you feel that the US military is in Afghanistan to protect women and their rights and if they leave that Afghan women will suffer. This article mentions the plight of Afghan women TODAY ie after 10 years of Amerikkan "freedom and democracy."
Michel Chossudovsky: 'Education in Afghanistan in the years preceding the Soviet-Afghan war was largely secular. The US covert education destroyed secular education. The number of CIA sponsored religious schools (madrassas) increased from 2,500 in 1980 to over 39,000 [in 2001]'.
Ron: Zbigniew Brzezinsk says that on 3 July 1979 'president Carter signed the first directive for the secret support of the opposition against the pro-Soviet regime in Kabul. And on the same day I wrote a note, in which I explained to the president that this support would in my opinion lead to a military intervention by the Soviets.' In other words the Soviets WERE fighting against a secret PRIOR US interference in Afghanistan. Moreover, unknown to the American public, the US spread the teachings of the Islamic jihad in textbooks "Made in America" developed at the University of Nebraska:
The primers, which were filled with talk of jihad and featured drawings of guns, bullets, soldiers and mines, have served since then as the Afghan school system's core curriculum. Even the Taliban used the American-produced books… Before the Taliban came to power, Afghan women lived a life in many ways similar to that of Western women See eg: From Afghanistan to Syria: Women's Rights, War Propaganda and the CIA - http://www.fourwinds10.net/siterun_data/peace_freedom/civil_rights/news.php?q=1365523955
Afghan women have the US to thank for their misery due to barbaric ideologies foisted on Afghanistan when Zbigniew Brzezinski precipitated the Soviet incursion at the request of the legitimate Afghan government on 24 December 1979. See eg: The CIA's "Founding" of Al Qaeda Documented - http://www.fourwinds10.net/siterun_data/peace_freedom/civil_rights/news.php?q=1365523955Sooo, Pleaseee don't believe the Jewmedia bullshit that the Amerikkan military must stay in Afghanistan to ensure freedom and democracy and to protect women and their "rights".
*******
'Cutting the nose, lips and ears': Brutality against Afghan women at record level
Published time: January 04, 2014 23:00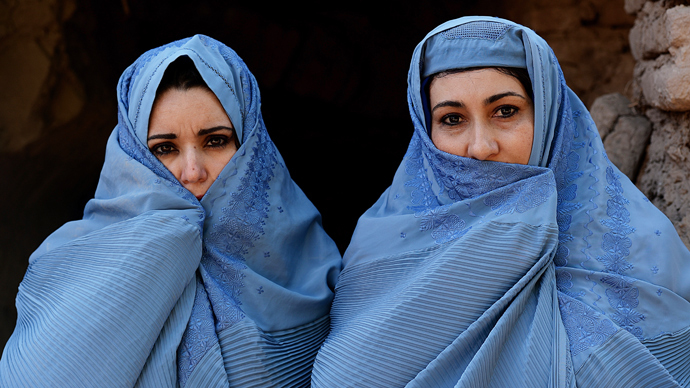 Violent crimes against women in Afghanistan reached an unprecedented level of brutality in 2013, an Afghan human rights watchdog has announced as the US-led coalition prepares to withdraw.
Chair of the Afghanistan Independent Human Rights Commission (AIHRC), Sima Samar, told Reuters that the pace and the hideousness of attacks on women intensified in 2013 with a 25 per cent surge in cases from March through September.
"The brutality of the cases is really bad. Cutting the nose, lips and ears. Committing public rape," Samar said. "Mass rape... It's against dignity, against humanity."
The spokeswoman noted that as the withdrawal deadline draws near for international troops, women in tribal areas are less protected, leaving them vulnerable to violent assaults.
"The presence of the international community and provincial reconstruction teams in most of the provinces was giving people confidence," Samar said. "There were people there trying to protect women. And that is not there anymore, unfortunately."
She also noted that poor economic conditions and the lack of security are also contributing factor to the rise of incidents.
Other human rights workers are blaming the attacks and even killing of women on the absence of law in a country based on patriarchal tribal societies.
"Killing women in Afghanistan is an easy thing. There's no punishment," Suraya Pakzad, who runs women's shelters in several provinces, told Reuters.
Citing the cases of public stoning, Pakzad said, that the future looks bleak for women's rights in the country.
"Laws are improved, but implementation of those laws is in the hands of warlords... I think we are going backwards."
In November, Human Rights Watch (HRW) urged the Afghans to reject a proposal by the Justice Ministry that is assisting in drafting a new penal code that includes restoring stoning as punishment for adultery.
"It is absolutely shocking that 12 years after the fall of the Taliban government, the Karzai administration might bring back stoning as a punishment," said Brad Adams, Asia director at Human Rights Watch.
"President Karzai needs to demonstrate at least a basic commitment to human rights and reject this proposal out of hand," Adams added.
The draft legislature is seeking to introduce stoning for sexual intercourse outside a legal marriage, and stipulates that both man and woman shall be sentenced to "[s]toning to death if the adulterer or adulteress is married."
It also states the "implementation of stoning shall take place in public in a predetermined location." If the "adulterer or adulteress is unmarried," the sentence shall be "whipping 100 lashes."
Death through stoning was used during the Taliban government, in power from the mid-1990s to 2001. After the US lead invasion and the establishment of a new government, Afghanistan signed on to international human rights conventions pledging to protect rights, especially for women.
International law says that death by stoning violates the International Covenant on Civil and Political Rights, which Afghanistan has ratified.
In its 2013 report on Afghanistan, HRW blames the government for a "failure to respond effectively to violence against women" which "undermines the already-perilous state of women's rights."
Furthermore, HRW argues that the rhetoric stemming from the leadership in the country further ignites violence against women.
"President Hamid Karzai's endorsement in March of a statement by a national religious council calling women 'secondary,' prohibiting violence against women only for 'un-Islamic' reasons, and calling for segregating women and girls in education, employment, and in public, raises questions about the government's commitment to protecting women. The minister of justice's description of battered women shelters as sites of 'immorality and prostitution' deepens that skepticism," the report stressed.
In October, UN Women's right chief said that that "women's rights continue to be violated, female officials are being targeted and killed, and legal protection is under threat."
"It is imperative that women's rights and empowerment are prioritized in the coming period of transition," Phumzile Mlambo-Ngcuka, Executive Director of the United Nations Entity for Gender Equality and Empowerment of Women, told DW.
Most foreign forces are due to leave Afghanistan by the end of the year and it is unclear whether any will remain beyond 2014 as the Karzai government is still reluctant to sign a bilateral security agreement with the United States and has made demands that Washington calls "unrealistic".