Custom Search
Majority of Families Crossing Border Are Released Into United States
Charlotte Cuthbertson
3-20-21
McALLEN, Texas—The Biden administration has moved away from sending families back across the border using the COVID-19 emergency measure called Title 42.
Now the vast majority (upwards of 85 percent) of family units who are apprehended by Border Patrol after crossing the border illegally are quickly released into the United States.
On March 25, a total of 6,000 people were apprehended by Border Patrol along the southwest border, according to a senior Border Patrol official during a March 26 press call.
Of the 2,200 individuals within family units who were apprehended, 1,900 were released, while 300 were processed under Title 42 to be expelled, the official said.
"It's a little higher percentage now than it was previously," the official said regarding the volume being released into the interior. "We continue to try to leverage the Title 42 authorities as much as we possibly can."
Most of the single adults being apprehended are still expelled under Title 42.
The families being released are either given a notice to appear containing a court date to begin their immigration proceedings, or given nothing and released "on their own recognizance," the official said.
The Biden administration is under fire for overcrowded and unhealthy conditions at processing centers at the border, as well as for sending thousands of illegal immigrants all over the country while businesses and schools are still closed due to the pandemic.
A facility in Texas is squeezing up to 80 individuals into each 24-by-30-foot cell, according to a border agent who spoke to The Epoch Times.
"Unfortunately, on any given day we may have upwards of 9,000 people in custody, which certainly puts a strain on our resources," said the border official, who spoke on condition of anonymity, for fear of repercussions.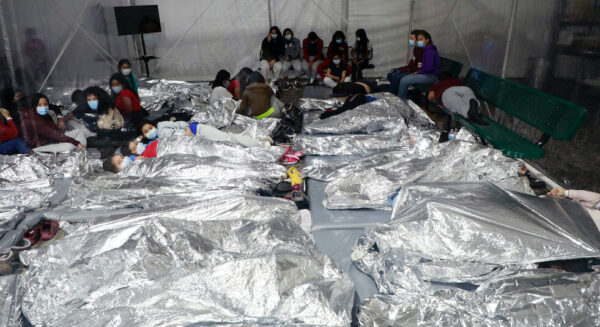 Illegal border crossings during the month of February reached a 14-year high for that month with more than 100,000 crossings. By March 25, crossings had already surpassed those of February, a Border Patrol agent told The Epoch Times.
"I fully expect that over the next couple of months, we're also going to see some increases," the senior Border patrol official said. In general, illegal crossings pick up during the spring and summer months.
During the 2019 border surge, illegal crossings hit a high of more than 144,000 apprehensions in May. At the same time, more than 40 percent of border agents were pulled off the border in some areas to help look after families and children.
Mexican cartels use the family groups to tie up Border Patrol resources in one area, while they push drugs and criminals through an unpatrolled area nearby.
Brian Hastings, Border Patrol sector chief for the Rio Grande Valley in south Texas, reported that more than 861 criminals have been encountered in his sector so far this fiscal year, including 92 sex offenders and 63 gang members.
The family units and unaccompanied minors currently crossing are most commonly from the Central American countries of Honduras, Guatemala, and El Salvador. However, the senior border official said Border Patrol is currently encountering more illegal aliens from Ecuador, Brazil, and Cuba.
President Joe Biden on March 24 delegated the main responsibility of addressing the border crisis to Vice President Kamala Harris, saying she's the "most qualified" person to handle the situation.
https://www.theepochtimes.com/mkt_morningbrief/majority-of-families-crossing-border-are-released-into-united-states_3753884.html?utm_source=morningbrief&utm_medium=email&utm_campaign=mb-2021-03-30&mktids=d985aaf6c3ccbedb451ac7adffb4b918