Custom Search
Devastation: Aerial footage shows Haiti villages leveled by Hurricane Matthew as death toll climbs to at least 340 across the Caribbean R
Reuters Reporter and Dailymail.com Reporter
Matthew is the strongest hurricane in the Caribbean since Felix in 2007
On Tuesday and Wednesday it whipped Cuba and Haiti with 140 mile-per-hour winds and torrential rain
Towns have been devastated and livestock, crops and homes destroyed
As of Thursday at least 340 people had died from the storm across the Caribbean, mainly in Haiti
Medical officials in Haiti are concerned about a Cholera breakout
Two days after Hurricane Matthew rampaged across Haiti's remote southwestern peninsula, authorities and aid workers still lack a clear picture of what they fear is the country's biggest disaster in years.
But new aerial footage has illustrated some of the mass devastation, showing villages that have been leveled by 145 mph winds, with wreckage and misery everywhere.
At least 340 people have been killed by the storm across the Caribbean, but predominantly in Haiti, local officials said today. The interior ministry confirmed 108 had been killed by Thursday afternoon, with that number expected to rise. Four more have been killed in the Dominican Republic.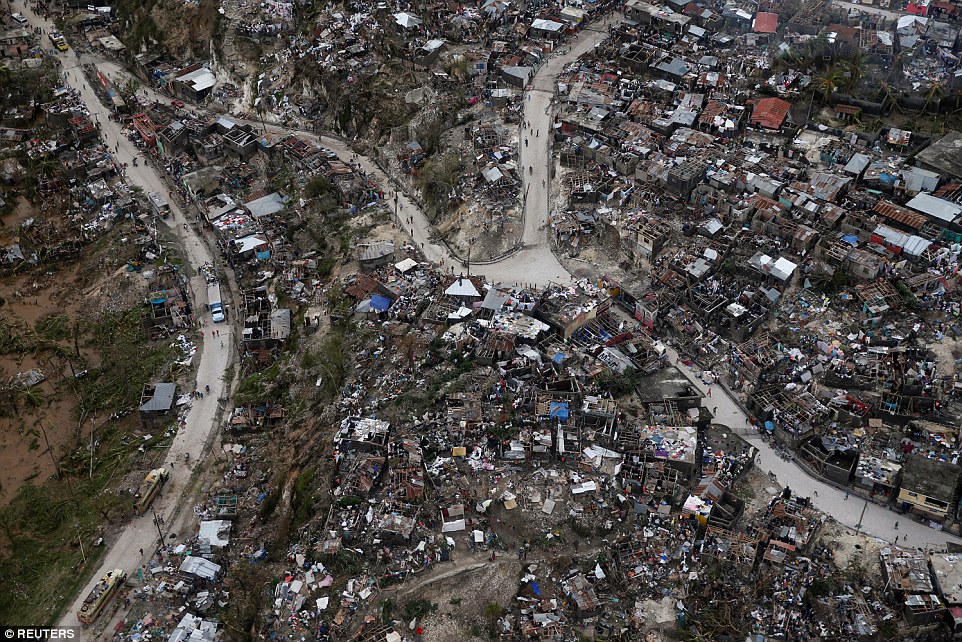 In ruins: Villages were leveled by 145 mph winds as the Category four storm brought floods, wreckage and misery to Haiti on Tuesday and Wednesday