Custom Search
Mysterious Bat Deaths in New York, Vermont and Massachusetts
Linda Moulton Howe
who does not say, 'Oh, wow! This is the worst thing I've ever seen.'"
– Alan Hicks, N. Y. Dept. of Environmental Conservation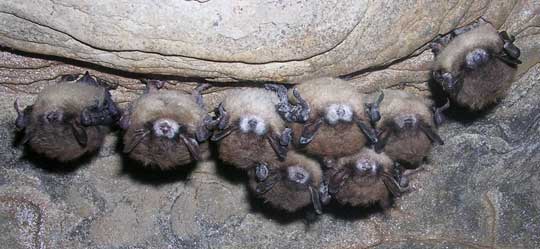 Eight Little Brown Bats hanging upside down in hibernation west of Albany, New York,
inside Hailes Cave in winter 2007. Unidentified white fungus rings the noses on seven. Bat mortality
in two caves affected by the white-nose syndrome was 90% and 97%. By February 2008, the
white-nose syndrome has spread to twenty caves in New York state, southwestern Vermont
and western Massachusetts. Image © 2007 by Nancy Heaslip.
February 29, 2008 Albany, New York - Thousands of bats are sick, or dead, in at least 20 northeastern U. S. caves. So far, not a single laboratory examining tissues has come up with the cause of death. The physical anomalies in some, but not all, of the dead or dying bats are white rings of fungus around their noses and lung tissue inflammation, similar to pneumonia.
Another physical anomaly that is common to every dead bat carcass: little or no fat. Winter is when bats hibernate in caves and mines. To survive cold temperatures, the bats eat as much as possible to build up fat reserves before spending a few months hanging upside down next to each other so close that all the shared body heat helps the bats to survive. Bats get so close to each other during hibernation that in the case of Little Brown Bats, 300 of them pack into a square-foot space. But being so close together, also means that bats can spread disease quickly. Year-to-year mortality rates of 50% are not uncommon.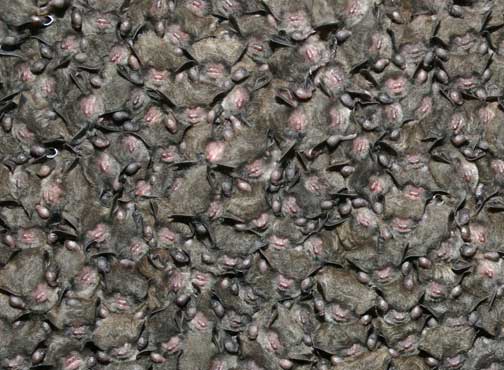 Hibernating Little Brown Bats crowded together to keep warm,
about 300 animals per square foot. Image © 2007 by Alan Hicks.
But until now, no bat researcher had ever heard of 97% mortality in bats hibernating in two or four or ten or twenty different caves - and there is no historic context anywhere in the world for so many hibernating bats to die with white fungus rings around their noses.
But that's exactly what happened in the winter of 2007 in two caves west of Albany, New York. And now, a year later, the white-nose syndrome has expanded to about 20 caves and mines in New York state, southwestern Vermont and western Massachusetts. Those caves hold half a million hibernating bats – and scientists are afraid that by April 2008 when the little mammals should be leaving their roosts, most could be dead.
There are four bat species dying off in this mystery: the Little Brown Bat (Myotis lucifugus), the Northern Long-Eared Bat (Myotis septentrionalis), the Indiana Bat (Myotis sodalis) and the Eastern Pipistrelle (Perimyotis subflavus). Since the Indiana Bat is on the Endangered Species list, the mammal specialist in New York's Endangered Species Program in the Department of Environmental Conservation is deeply involved in trying to find out what is causing the rapidly spreading bat deaths.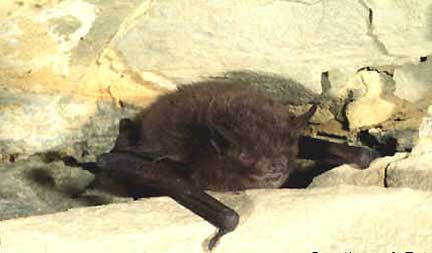 Indiana Bat (Myotis sodalis), hanging from cave ceiling.
Image © by J. Parnell.
He is Alan Hicks, who has a Masters of Science degree in Wildlife Management and has worked for New York's Endangered Species Program since 1979. In his 30-year-career, Alan Hicks has never seen white fungus rings around the noses of sick and dying bats. This week I talked with him about how the mystery began and what he has learned so far.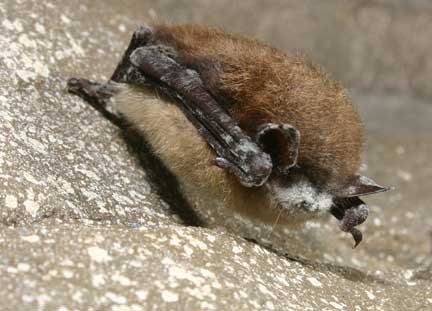 Little Brown Bat (Myotis lucifugus) with white fungus on nose, ears and legs
on January 6, 2008, in cave west of Albany, New York. Image © 2008 by Alan Hicks.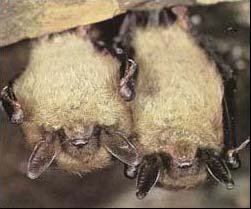 Normal, healthy Little Brown Bats hanging upside down
from cave ceiling. Image © 2008 by Alan Hicks.
---
Alan Hicks, M. S., Mammal Specialist, Endangered Species Program, New York Department of Environmental Conservation, Albany, New York: "On March 14, 2007, we went to one of our Indiana bat sites that's not too far from where the original report came from. Our staff went in there and a couple hours later, they called me and said there were dead bats all over the place in there. So, it was really March 14, 2007, that it became abundantly clear that something bad was going on. By the end of 2007, we found dead bats in a total of four caves within about a 7 mile radius of each other – in a very small area just west of Albany.
THAT'S THE NUMBERS OF 8,000 TO 11,000 BATS DIED?
Right. We don't know exactly how many died. But we had about 15,000 bats in that particular cave site and the count was down to about 6,000 by the time we surveyed it in March 2007.
So, we immediately began requesting surrounding states in the area and our own staff started going out to other important bat sites in New York to look for problems. We didn't find dead bats at most other locations, but we found two more caves in close proximity to the original first two caves that had similar levels of mortalities – large numbers of bats being found dead.
That was the end by then at the end of March, beginning of April, when bats would be leaving the caves and mines in New York state. So, there was not much more we could do last year. But we contacted everybody and said, 'OK, be on the look out for this stuff in the coming winter (of 2008). On January 5, 2008, we had our first report of this problem by a caver in the Albany area and it has continued to expand from there.
We now have it in all sites we have checked within 80 miles of Albany, New York, now. All the caves and mines we have surveyed have this bat death problem.
THAT INCLUDES SOUTHWEST VERMONT AND WESTERN MASSACHUSETTS?
Right. And we have another site that's 130 miles beyond the original four bat death caves that is now affected.
White Fungus Ring Around Bat Noses
IN BOTH WINTERS OF 2007 AND 2008, HAVE YOU ALL NOTICED THE RING OF WHITE FUNGUS AROUND THE NOSES OF ALL THE DEAD BATS?
Oh, no. We call it the 'white-nose syndrome' because when researchers went into the original cave, Haile's Cave just outside of Albany last year, and discovered all the dead bats, of the bats that were still alive, half of them had this white fungus around the nose. It's very prominent and obvious. The staff came back to me and reported that about half the bats they saw had this white fungus on them. And now we have the same thing in winter 2008, but in a lot more caves.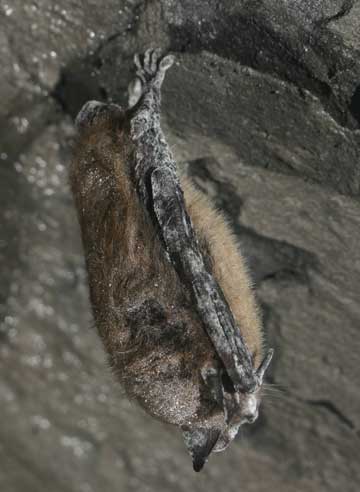 Still-unidentified white fungus on bat's nose, body and legs,
as little mammal hangs upside down on February 13, 2008, in cave at
Williams Lake, New York. Image © 2008 by Alan Hicks.
Sick Bats Moving from Normal Roosts
to Front of Caves
But there are a couple of other characteristics of this problem that were pretty evident. One is that the bats tend to shift towards the entrance of the caves, or toward the colder parts of the caves. Generally, it's toward the front entrance of the caves. Bats have a very specific range of temperatures and humidities that they are looking for when they are hibernating. Bats are very reliable about returning to the same cave or mine every year. They are also very reliable about going to the same roost. We have one site in New York we always reference in this regard. I could go there and set up a camera in July and have it focused on this particular rock and then have the camera fire in the middle of February and every Indiana bat in that part of the state of New York would be in that photograph. Year after year, the bats are so reliable that they actually stain the wall from years and years of use in the same roost sites. So, when the bats move from the roosts, abandon the roosts, something is up.
Bats Leaving Hibernation to Fly in Daylight
So, the bats moving to the front of the caves is one anomalous characteristic that we saw. Another was the bats being seen flying around over the landscape in daylight. The affected bats – almost without exception – have greatly depleted fat reserves. The carcasses we've picked up were so depleted, they might have fallen from their roost into the cave water and drowned. The affected bats have greatly reduced fat reserves. In mid-February, you should have the fat reserves you'd have in April to May when you come out of hibernation.
So, if you are a bat and you hibernate, your life depends on going into the fall with enough fat supplies to carry you through to the spring. Your life depends on your conserving your fat reserves so you'll have enough energy to carry through until spring. For reasons that we do not understand, the fat reserves in the sick bats are depleted so much that the bats are starving to death.
Sick Bats Not Responding to Human Presence
The fungus – when I went back to the original site this year – there were about 1500 bats. I did not see the fungus on any of the bats. But they were all crowded forward at the entrance of the cave and the bats did not respond to my presence, which is another indication of the problem.
Typically, we only do these surveys every couple of years because when you go into the caves, a large percentage of the bats when you're done will be awake and flying around and chattering and making all kinds of noise. This burns up fat reserves more quickly than you would want it to happen. So, you don't do this very often.
When I went in this January on the same route we normally do for our surveys, I got back to the entrance and had not heard a single bat on the entire trip and I only saw one individual flying. So, these guys are doing everything they can to not burn up their fat reserves – to the point of ignoring what they would normally consider a threat, that being us humans walking through.
Unprecedented Bat Death Syndrome
HAVE YOU RECEIVED LAB RESULTS BACK FROM CORNELL, MADISON, COLUMBIA, OR ANYBODY YET ON ANYTHING THAT'S PRELIMINARY?
Basically there is no smoking gun yet from any of the labs. Whatever the problem is, it is not obvious to the labs. It's clearly a problem that is spreading. Last year it was more localized and now it's much more widespread this year.
NO ONE HAS EVER SEEN THIS SYNDROME BEFORE?
To my knowledge - and information about this syndrome has gone out to most bat researchers in North America – I know of no records of sustained and expanding mortality from one site to another as we're seeing here.
FROM ONE WINTER TO THE NEXT.
Not only one winter to the next, but being in one cave and then two caves and then ten caves and expanding out from there.
HOW MANY CAVES ARE AFFECTED RIGHT NOW AT THE END OF FEBRUARY 2008?
I'm not really sure because as I glance at my emails right now, the bottom of the list is another affected site in Vermont. I've been out in the field getting samples the past couple of days. But it's got to be close to 20 sites.
IS THAT CLOSE TO HALF A MILLION BATS?
Yes, very close to half a million bats.
THE MORTALITY RATE IS AVERAGING 50% IN EACH CAVE?
I wish it were 50%!
HOW MUCH IS IT?
Of the four sites affected last year and we've re-visited this year, we've re-visited two of them and are going to go into the other two in the next couple of days. But of the two we've revisited, we've had a 90% and 97% decline in their numbers since the last survey prior to the syndrome being discovered in January 2007.
SO, NEARLY 100% OF THE BATS ARE DYING IN THE AFFECTED CAVES!
Yeah.
NOW, YOU HAVE BEEN WORKING FOR THE NEW YORK CONSERVATION AGENCY FOR 30 YEARS. DO YOU HAVE ANY GUT FEELING ABOUT WHAT COULD BE RESPONSIBLE FOR ALL THE BAT DIE-OFF?
I have yet to meet a bat biologist anywhere in North America who does not say, 'Oh, wow! This is the worst thing I've ever seen.'
WHY SHOULD THE CAUSE OF SO MUCH MORTALITY BE SO DIFFICULT TO FIND?
That is a very good question. It's very odd. I want to make sure that folks understand that the fungus associated with the nose is not necessarily the cause of death. It could be a symptom of another problem.
HAVE THE LABS BEEN ABLE TO IDENTIFY THAT WHITE FUNGUS?
They are working on it.
SO, EVEN THE FUNGUS IDENTITY IS NOT KNOWN?
Not the last email exchange I had, it was not confirmed, no.
SO, THE WHITE FUNGUS IS A MYSTERY AS WELL AS CAUSE OF DEATH?
Right.
WHEN YOU HAVE LOOKED AT THE BAT BODIES YOU HAVE COLLECTED TO SEND TO THE LABS, WHAT IS ESPECIALLY UNUSUAL?
The bats are thin. The bodies are all thin. The presence of the white fungus on some individuals - I had never seen this before in my career and neither had any of the other research folks. A few scientists have seen it on a few bats in a stressful situation, but nothing on the level of deaths here. Scientists think the white fungus is a response to some other stress, which allows the fungus to take hold. [ See Thermal Camera Research below.]
Are Bats Starving to Death?
OF THE BATS THAT HAVE DIED, WHAT IS THEIR LARGEST FOOD SOURCE?
They eat flying insects. They are rather opportunistic. Generally, the Myotis group – the little brown bats, Indiana bats and things of that sort – they feed on small moths, midges, mosquitoes if they are available. Those bats go out and take whatever they can find that's in the size range of what they typically eat.
WE KNOW THAT THE NATIONAL ACADEMY OF SCIENCES HAD A MEETING WITHIN THE PAST YEAR AND A HALF ABOUT THE SERIOUS DECLINE IN ALL POLLINATORS, WHICH WOULD INCLUDE MOTHS. IS IT POSSIBLE THAT THE BATS ARE SHOWING US THERE HAS BEEN SUCH A DECLINE IN INSECTS THAT THEY ARE NOT GETTING ENOUGH FOOD?
Well, folks have suggested that numerous times. I'm a little skeptical of that, though, because the problem was so localized in the first year – just four caves. And our bats do not spend the summer in these caves. They just winter in there. Some of them go from 50 to 100 miles or so from where they spend the winter to where they spend the summer. The summer colonies that they form are made up of bats from multiple hibernating groups of a number of species. So, it seems that if it were a food-related issue on the summer range, then it would have to affect many more hibernating bats at the same time because bats from the same summer locations are going to multiple places to hibernate. So, it would not be just one little site in New York. And if it were a food-related problem, then it was a food-related problem that was very focused in the Albany area and has now expanded out in all directions in just one year.
WHAT DO YOU THINK WOULD MAKE THE BATS FLY OUT OF THE CAVE IN THE DEAD OF THE WINTER?
They are starving. They are hanging on the walls saying to themselves, 'I can hang here and die,' which many of them do. Or, I can fly out of here and hope there is food out there. And they do and they die (not enough food reserves in their bodies to fly around.) But what exactly has caused their fat to disappear? That's what we don't know.
It's unsettling, this whole thing, how quickly it's occurred and how it's expanded."
Thermal Infrared Camera Research
Many top-notch scientists and laboratories have joined the search to find what is killing all the bats. One of those researchers is Thomas Kunz, Ph.D., Prof. of Biology and Director of the Center for Ecology and Conservation Biology at Boston University. Dr. Kunz is also an expert in bats. He told me what is happening to the northeastern bats is unprecedented. He explained that normal, healthy bats in hibernation can be waked up without much problem within 40 minutes to an hour. During that slow waking process, the hibernating bat's body temperature will rise from about 2 degrees Celsius to about 39 degrees – depending upon the ambient winter time temperature outside.
He took thermal infrared cameras into one of the New York caves affected by the white-nose-fungus syndrome to study the bat body temperatures and to see how long it took for the bats suffering the white-nose syndrome to arouse. Prof. Kunz's research confirmed that after four hours, the white-nose bats were still not moving. He told me, "That suggests to us that those bats don't have any fat left to fuel even flying outdoors to look for food, let alone move their bodies in the cave roost. Some of the white-nose bats have flown outside, apparently to look for food. But that is very unprecedented for bats to be flying around in mid-winter when there is snow on the ground and the temperatures are cold."
Prof. Thomas Kunz, Ph.D.: "I have attached 2 thermal images of hibernating little brown bats in false color, recorded with a thermal infrared camera. Green is the lowest temperature in the image (the cave wall), yellowish-green is slightly warmer by a couple of degrees, yellow is even warmer, and red and white are the warmest, respectively. The first image shows a small cluster of bats in deep hibernation. Their body temperature is only 1.5 degrees C. above the temperature of the cave wall.

The second image is of a different cluster in which two bats are at different stages of arousal. The one on the left has undergone non-shivering thermogenesis and has raised its body temperature to about 20 degrees C., a temperature when it can begin to undergo shivering thermogensis. The bat in the upper right of the cluster is just beginning to arouse, as indicated by the red color in the back area."
Prof. Kunz hopes to have more data by the end of March and Alan Hicks hopes that other laboratories such as Cornell, Columbia and Madison, Wisconsin, might have more clues by then – maybe even an answer.
But Mr. Hicks told me, "I think global warming is throwing Nature so far out of balance that we're going to see more and more Earth creatures unable to cope with all the rapid changes. More and more extinctions are going to occur – and only then will humans see for themselves what happens when the coral reefs are dead, most amphibians are gone and maybe even bats aren't around to help control insects."
---
More Information:
For further information about sick, dying and disappearing Earth life, please see related Earthfiles reports in the Earthfiles Archives:
• 01/18/2008 — Amphibians Dying Out At Alarming Rate

• 10/05/2007 — Earlier, Faster and Deeper Arctic Ice Melt Down

• 08/08/2007 — 2007's Warm, Erratic Global Weather

• 07/11/2007 — Mystery of Night Shining Clouds - Another Global Warming Change?

• 06/28/2007 — Hackenberg Apiary, Pennsylvania - 75-80% Honey Bee Loss in 2007. What Happens If Colony Collapse Disorder Returns?

• 06/21/2007 — Large Lake in Southern Chile Has Disappeared

• 06/01/2007 — Is Earth Close to Dangerous Tipping Point in Global Warming?

• 05/29/2007 — Deadly VHS Fish Virus Has Spread to Lake Michigan

• 04/12/2007 — First 2007 Crop Pattern in United States

• 03/17/2007 — Honey Bee Disappearances Continue: Could Pesticides Play A Role?

• 02/23/2007 — Scientists Hope "Amphibian Arks" Can Save Frogs and Toads

• 02/23/2007 — Part 1: Earth Life Threats - Alarming Disappearance of Honey Bees

• 02/02/2007 — Updated: New U. N. Global Climate Change Report: Earth Could Warm Up 3.2 to 11.52 Degrees Fahrenheit by 2100

• 01/10/2007 — 2006: USA's Warmest Year On Record

• 12/16/2006 — Updated: Unprecedented Die-Off of 2,500 Mallard Ducks in Idaho

• 12/08/2006 — NASA Wants Permanent Moon Base by 2024

• 12/07/2006 — Earth Headed for Warmest Period in 55 Million Years?

• 09/23/2006 — E. coli O157:H7 - Why Can't It Be Washed Off Contaminated Spinach?

• 09/09/2006 — Methane - Another Threat in Global Warming

• 08/19/2006 — Repair of Earth's Ozone Layer Has Slowed

• 07/18/2006 — 2006 - Hottest Year So Far in U. S. History

• 06/24/2006 — "High Confidence" Earth Is Warmest in 400 Years - Maybe Even 2,000 Years

• 06/22/2006 — Horse Suspended in Mid-Air Near Milan, Italy, Apartment

• 02/20/2006 — Mysterious Deaths of Whales in Mexico

• 09/29/2005 — 2005 Arctic Summer Ice Melt - Largest On Record

• 09/23/2005 — Phenomenon of "Instant" Hurricanes in 2005

• 08/26/2005 — What Is Killing Amphibians Around the World?

• 08/05/2005 — Scientists Puzzled by "Bizarre" Pacific Coast Die-offs in 2005

• 05/07/2005 — Did Milky Way Gas and Dust Turn Earth Into Icy Snowball Four Times?

• 04/20/2005 — Outer Space Impact At Serpent Mound, Ohio, 256 Million Years Ago

• 04/01/2005 — What's Killing Off Marine Life Every 62 Million Years?

• 03/20/2005 — Astronaut John Young: "The Moon Can Save Earth's Civilization."

• 02/26/2005 — Collapse of Societies: From Easter Island to Iraq - to Western World?

• 02/03/2005 — Kyoto Protocol Goes Into Effect February 16, 2005. British Scientists Warn Global Temperatures Could Climb Higher Than Earlier Estimates.

• 01/22/2005 — From U. S. to Arctic - A Sea Change in the Weather

• 11/02/2004 — North Pole Summers Without Ice?

• 08/27/2004 — Global Warming Impact On Birds - More Extinctions Expected

• 02/27/2004 — Abrupt Climate Change: Scenario from A Pentagon-Commissioned Report

• 09/02/2003 — Updated - Astronomers Don't Think Asteroid Will Hit Earth in 2014

• 07/19/2003 — Update - Defiance, Missouri T-Pattern Cut in Saplings

• 11/14/2002 — What Happened 12,000 Years Ago That Killed So Many Animals?

• 07/20/2002 — Extinctions of Earth Life Are Accelerating Rapidly

• 04/27/2002 — Earth's Magnetic Anomalies - Could the Poles Flip?

• 03/21/2002 — Antarctic Peninsula Is Melting - And So Is Arctic Ice

• 02/13/2002 — January 2002 Warmest On Record For Whole World

• 01/05/2002 — Global Warming Update - Could Increasing Carbon Dioxide Gas Be Transformed Into Limestone?

• 12/22/2001 — Scientists Warn That Climate and Earth Life Can Change Rapidly

• 06/09/2001 — Environmental Updates and Colt Mutilated in Leitchfield, Kentucky

• 02/25/2001 — Environmental Updates

• 02/18/2001 — Environmental Updates and Mysterious Deaths of 2000 Atlantic Brant Geese

• 02/07/2001 — 94% Decline In Aleutian Islands Sea Otter Population

• 01/07/2001 — Dinosaur-Killing Asteroid Punched 22 Miles Through Earth's Entire Crust

• 09/10/2000 — Arctic Ice Melt Threatens Polar Bears