Custom Search
CONGRESS VOTES TO KILL PROTECTIONS FOR WOLVES, BEARS ON ALASKA REFUGES (with comments by PHB and AB)
Chris D'Angelo
Mar. 23, 2017
NOTE: Alaska needs to take back her power from the unlawful Federal Government and enforce state's rights. ---PHB
NOTE: Creator God Aton/Hatonn says that if a person intentionally kills an animal for sport or just to "kill", he/she shall be killed by an animal in their next lifestream. LAW OF CAUSE AND EFFECT- OR YOU REAP WHAT YOU SOW. Phoenix Journal 27, Law number 13.
The only thing standing in the way of the GOP-backed measure becoming law is Donald Trump's signature.
WASHINGTON — With the stroke of his pen, President Donald Trump could allow for bears, wolves and other predators to once again be hunted in Alaska's national wildlife refuges.
Following in the footsteps of their House colleagues, Senate lawmakers on Tuesday approved a measure to repeal an Obama-era rule that largely banned hunting of Alaska's most iconic predators on more than 76 million federal acres.
The Republican-sponsored legislation would undo the Alaska National Wildlife Refuges Rule, ultimately opening the door for the state to resume aggressive predator control tactics, including shooting bears and wolves from airplanes and killing cubs and pups in their dens.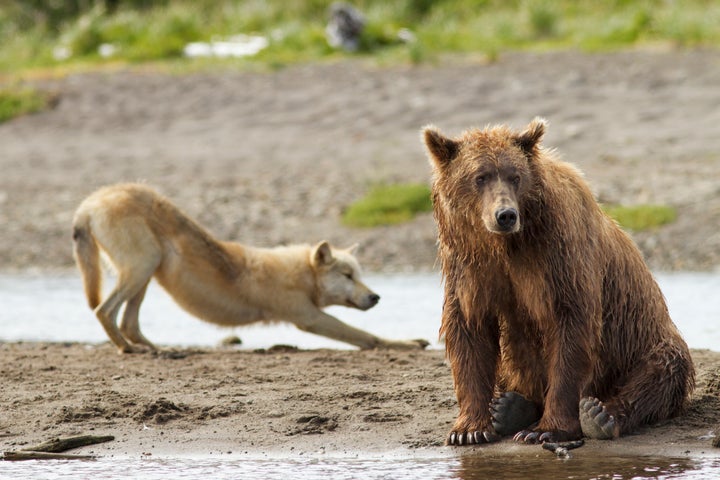 During their testimony on the Senate floor, Sens. Lisa Murkowski (R-Alaska) and Dan Sullivan (R-Alaska) described the rule, issued in August by the U.S. Fish and Wildlife Service, as an example of federal overreach that restricts Alaska's ability to manage its own fish and game.
Murkowski called it "bad for Alaska, bad for hunters, bad for our native peoples, bad for America," as well as a "direct attack on states' rights."
Although the rule deals specifically with non-subsistence predator control, Sullivan spoke extensively about Alaska's critical subsistence hunting and fishing.
"You might prefer your meat wrapped in cellophane at the grocery store. That's fine," he said. "But I ask that you don't criticize the thousands of Alaskans who have to hunt for their food and who value hunting as a deep part of their culture."
Under the current rule, predator control is not allowed on Alaska's 16 national wildlife refuges "unless it is determined to be necessary to meet refuge purposes, is consistent with federal laws and policy, and is based on sound science in response to a conservation concern." The law also bans specific hunting methods on Alaska refuges, including killing bear cubs or adult females with cubs, baiting brown bears, taking bears using snares and traps, and aerial shooting of bears and wolves.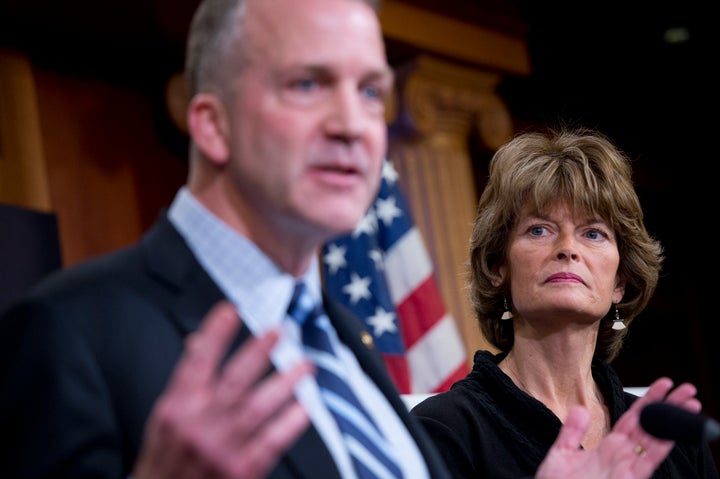 Sen. Martin Heinrich (D-N.M.) was among those who spoke out against the measure to repeal the FWS rule, saying the hunting community must embrace ethical standards when it comes to managing wildlife.
"While shooting sow grizzlies with cubs may be legal, I suspect the public will never view it as ethical," he said. "And I have to wonder what good old [Theodore Roosevelt] would have to say about recent decisions to allow unlimited bag limits on black bear cubs, or baiting of bears or shooting female grizzlies with cubs?"
Fish and Wildlife did not immediately respond to The Huffington Post's request for comment.
In a blog post published to HuffPost in August, on the day the wildlife protection ruling was finalized, former FWS Director Dan Ashe pointed out that this new rule would stop Alaska's Intensive Management Law, with which the Alaska Board of Game had "unleashed a withering attack on bears and wolves that is wholly at odds with America's long tradition of ethical, sportsmanlike, fair-chase hunting."
Environmental groups blasted the Senate's decision to strip away protections for Alaska predators.
In a statement, Jamie Rappaport Clark, president and CEO of Defenders of Wildlife, said that in passing the resolution, Congress failed not only bears and wolves but "the American people who support balanced, scientific management of our National Wildlife Refuge System."
"This warped resolution condones extreme practices to kill carnivores and their young, and is a disturbing abdication of federal authority over public lands and resources owned by all Americans," she said. "President Trump should veto this threat to wildlife and our natural heritage."
Brett Hartl, government affairs director at the Center for Biological Diversity, said killing predators in such a "cruel, unsportsmanlike fashion is outrageous."
"Senate Republicans have shown just how mean-spirited and petty they are with today's vote," he said in a statement.
The National Rifle Association is among the groups that have supported abolishing the Obama-era protections. Last month, Chris W. Cox, executive director of the NRA's Institute for Legislative Action, called the Obama administration's rule a "last-minute attack on outdoorsmen."
http://www.huffingtonpost.com/entry/senate-approves-alaska-predator-hunting-wildlife-refuges-us_us_58d1c633e4b0b22b0d17ffb7?