Custom Search
Welcome to the first Olympics in the shadow of ISIS: Rio prepares for Games with a warship on the Copacabana, troops on the streets and chemical attack drills as $900 million security operation begins
Shekhar Bhatia In Rio De Janeiro, Brazil, For Dailymail.com
Massive security in Rio de Janiero with a week to go until the start of the Olympic Games
Brazilian
army
and navy have been deployed over fears of terror attack with an alleged ISIS plot already broken up
88,000 military
personnel
and police are involved in security operation - double the level at London 2012 games
Preparations already in place include a frigate stationed close to Copacabana Beach, which will host events including beach volleyball
Soldiers are on guard at the airport where athletes have started to arrive
Army, navy and marines have all conducted drills for hostage rescue and bomb attempts
This is the warship stacked with missiles and an arsenal of lethal weaponry that is leading the show of force ahead of the first Olympics Games held in the shadow of ISIS terrorism.
Brazil is using the frigate, and a small fleet of other vessels to patrol the waters around tourist hot spot Copacabana Beach - where some of the .
Thousands of sport loving fans will visit Rio during the world's biggest sporting event, when it begins next week.
Brazil is spending almost $900 million on protecting the Olympics from terrorist attack and the 500,000 foreign visitors expected in Rio for the games.
A record 130,000 police, soldiers, navel personnel and security guards have been drafted in to combat the terrorist threat after a gang of alleged ISIS operatives were arrested in Brazil earlier this month.The ring of steel has been enforced with back up from the US Bureau of Diplomatic Security, which has been advising Olympic officials in the fight to prevent carnage at the games and protect athletes and sports fans.
SCROLL DOWN FOR VIDEO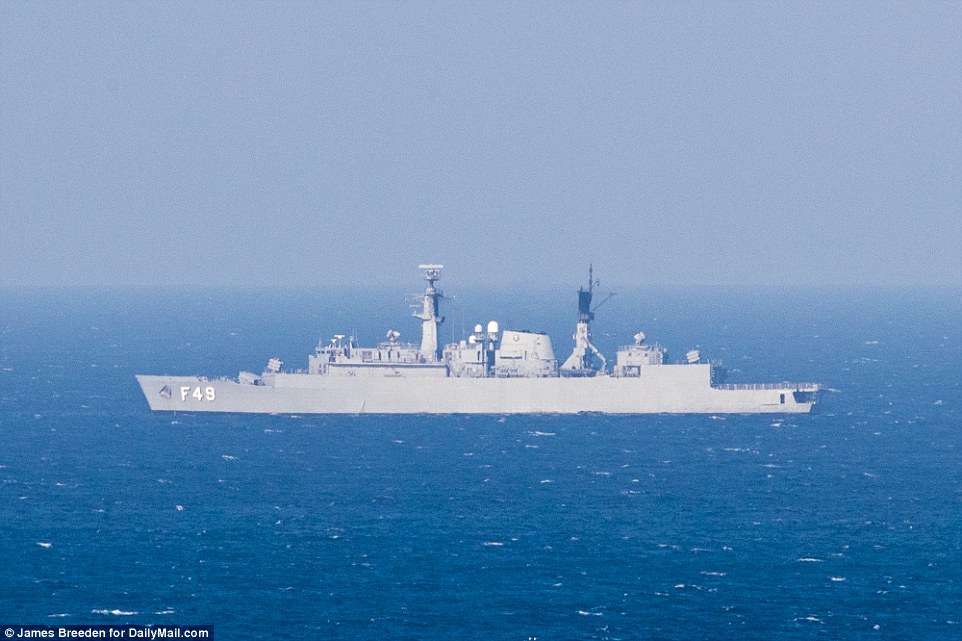 Leading the fleet: Frigate Rademaker is the most powerful of the Brazilian navy ships stationed on patrol off the Copacabana beach