Custom Search
Doomed Russian Spacecraft Is Falling From Space, But Where Will It Fall?
Leonard David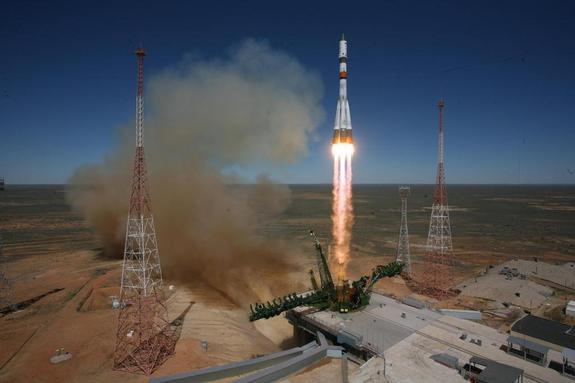 Russia launched the Progress 59 robotic cargo ship on April 28, 2015 on a mission to deliver 3 tons of supplies to the International Space Station. The spacecraft suffered a major malfunction after reaching orbit and is falling from space.
Round and round it goes, but exactly where a failed Russian space cargo ship will fall to Earth on this week is a guessing game.
On April 28, Russia's uncrewed Progress 59 supply ship streaked into orbit atop a Soyuz launcher, intended to dock with the International Space Station. But shortly after liftoff, the vessel experienced technical difficulties. Subsequently, a Russian mission control team could not command the cargo vessel packed with nearly 3 tons of supplies.
Current forecasts predict that the Progress should fall to Earth in an uncontrolled, destructive nose-dive on Thursday (May 8) between 3:11 a.m. and 5:26 a.m. EDT (0711-0826 GMT). Some media reports from Russia are citing a Friday re-entry target. A more refined re-entry date and time will become available, according to experts tracking the spacecraft. [See photos of the Progress 59 cargo ship]
Now, there is some speculation that an explosion may have occurred as the Progress 59 separated from its Soyuz booster's third stage, sending the supply ship into a tail spin. Whatever the cause, the $51 million mission has been abandoned by Russia, leaving the falling Progress vehicle to a fiery demise in Earth's atmosphere.
SEE video
http://www.space.com/29332-doomed-russian-progress-59-falling-spacecraft.html