Custom Search
Papal mass in Georgia fails to gather followers
The Unhived Mind
Papal mass in Georgia fails to gather followers
Pope Francis has held a mass in a largely empty stadium in the Georgian capital of Tbilisi, as the majority of officials with the Orthodox Christian Church in the country had allegedly asked followers not to attend the event.
The pontiff visited Georgia on Saturday as part of a three-day tour in the Caucasus region.
Only a few thousand people participated in the open-air mass at the Meshki stadium with a capacity of 25,000.
According to reports, the event hosted one of the smallest crowds ever seen at an outdoor papal mass during foreign visits.
*
*
*
*
*
*
*
*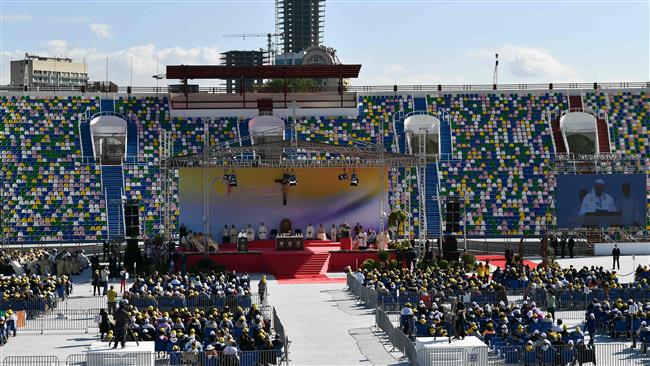 Pope Francis celebrates a holy mass at the Meshki stadium in Georgia's Tbilisi, October 1, 2016. (Photo by AFP)
"As long as there are dogmatic differences between our churches, Orthodox believers will not participate in their prayers," the Orthodox patriarchate said on its website, referring to the Catholics.
A Georgian priest was quoted as saying that the low attendance at the event was as a protest against Catholic attempts to convert Orthodox Christians.
Pope Francis, during the ceremony, also called for peaceful "coexistence" in the volatile region.
After Georgia, the Pope arrived in neighboring Azerbaijan, which has fewer than 300 Catholics in its overwhelmingly Muslim population.
Related posts:
http://theunhivedmind.com/wordpress4/papal-mass-in-georgia-fails-to-gather-followers/
uhm
Jorge Bergoglio is a Jesuit anti-pope who serves Zionist parasites who took over their Vatican host in 1962 after infecting it in 1823. The Zionists have destroyed Christendom and now it wishes to collect everyone from all faiths by using the World Council of Churches and the Ecumenism Movement with the goal of all eventually following the Luciferian Doctrine. The true definition of the Jesuit is a clever person who deceives the people. There hasn't been a Pope in the Vatican since the 1960s and never will be ever again as it's now just a hollowed out shell to be used by the Zionist as a veil and for its control systems over Europe and more.
☆´¨)
.·´ ¸.·★¨) ¸.·☆¨)
★(¸.·´ (¸.*´ ¸.·´
`·-☆ The Unhived Mind