Custom Search
How Germany was crucified in the First World War: Hidden for 100 years, the astonishing photos by 16-year-old soldier shows how his brothers-in-arms would forever be haunted by the spectre of defeat
Hannah Ellis-peterse
FW: Maerch 11, 2014
Captivating photographs taken by German soldier Walter Kleinfeldt who fought at the Somme aged just 16
The teenage soldier captured the reality of the front line for the German army with his Contessa camera
Kleinfeldt's photographs are seen for the first time, having been found by his son Volkmar just three years ago
They lay forgotten in a dank cellar for almost a century. But these remarkable photos, published for the first time, give a rare and uncensored view of the horrors of the First World War from behind enemy lines.
They were taken by Walter Kleinfeldt who joined a German gun crew in 1915 and fought at the Somme aged just 16. As his haunting pictures, taken with a Contessa camera, make all too clear, life in the trenches was a harrowing experience. The images provide an insight into the epic machinery of war – and capture the darkest moments of battle, with bodies strewn among the rubble.
Returning home in 1918, Walter set up a photography shop in the town of Tubingen, where he worked until his death in 1945. Walter's son Volkmar discovered the pictures three years ago.
They are now the focus of a new BBC documentary. Director Nick Maddocks said: 'It is rare to find such good-quality, honest and often beautiful photos that show us war through the eyes of the soldier, particularly from one so young.'
Hidden Histories: WW1's Forgotten Photographs is on BBC4 on Thursday at 9pm.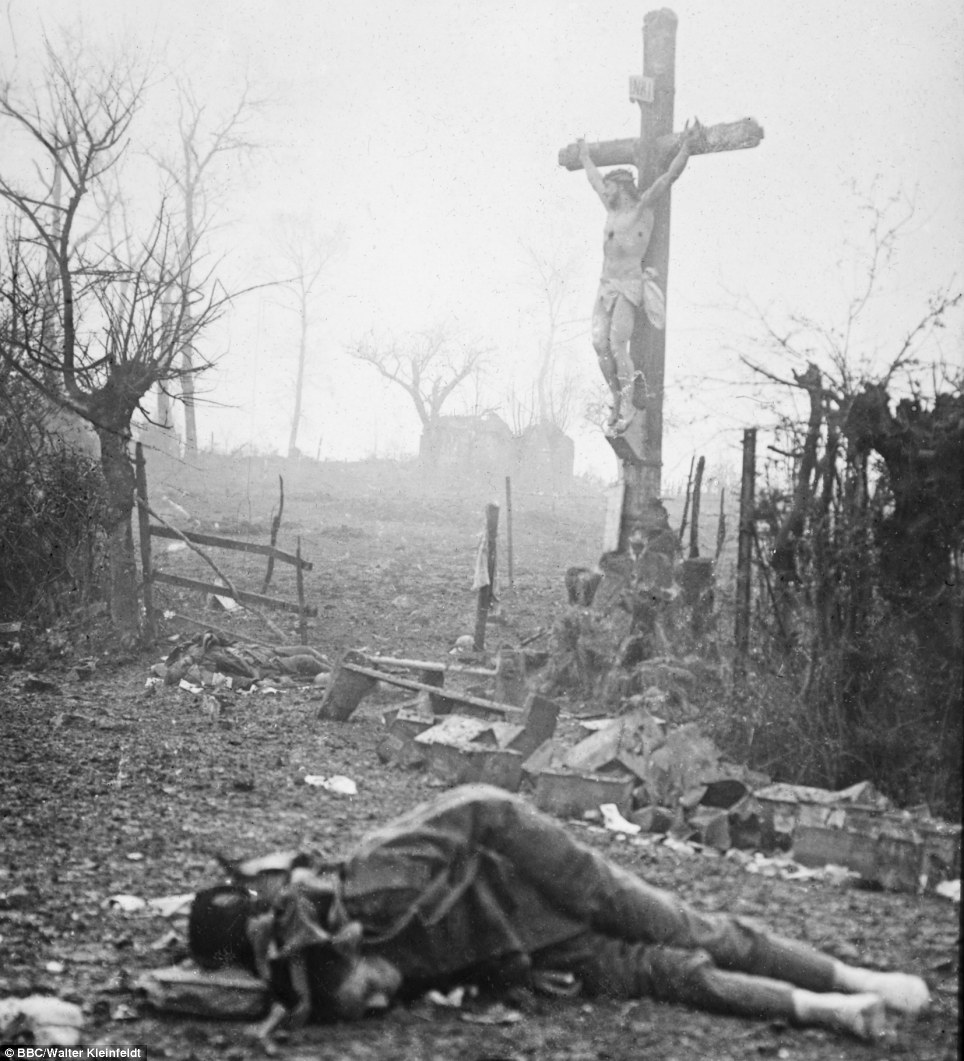 Read more: http://www.dailymail.co.uk/news/article-2576335/How-Germany-crucified-Hidden-100-years-astonishing-images-German-soldiers-haunted-spectre-defeat-paying-ultimate-price-captured-camera-one-brothers-arms.html#ixzz2vffYsqK4
Follow us: @MailOnline on Twitter | DailyMail on Facebook