Custom Search
History Of The U.S.-Mexico Border Security Fence
Rocky Montana
Rocky Montana
March 5, 2016
It was not human immigration [or drug-human trafficking, etc.], but rather environmental concerns that initially necessitated making the border less penetrable in the 1940's. Organ Pipe National Park (ORPI) was established under the Organic Act in 1937, placing the border parcel of land under National Park Service (NPS) jurisdiction and care. The border between the United States and Mexico came under special scrutiny when NPS rangers observed migrations of Mexican cattle and other hoofed animals overgrazing in protected areas and potentially spreading diseases to native livestock and wildlife on the American side. Internal NPS documents detail the construction of cattle fencing at the international boundary straddling ORPI, but later reports indicate that while the fencing inhibited the entry and exit of cattle, it remained incomplete and failed to stop the migration of other animals. In correspondences with the NPS, C.M. Aldous, the Wildlife Research Biologist Supervisor for ORPI, acknowledged the partial success of the fencing and recommended more "now that the fence has become somewhat of a barrier to the natural movement into and out of Mexico and especially if it to be completed beyond the west boundary." These recommendations that advocated for the use of fencing to control movement set into motion a parallel mentality that would later be applied to controlling the movement of humans across the international boundary through use of more fencing in the next decade.
As immigration and border security rose to prominence on the national agenda in subsequent decades, the precedent of the NPS-imposed fencing worked to goad an intensification of this concept. Due, at least in part, to fencing's perceived success, journalist Joseph Nevins theorizes, "barricades became a staple in the larger enforcement toolbox, one that increasingly involves measures that resemble aspects of the military doctrine." In keeping with this notion, militarization of the border was initiated amidst the waging of the aptly named "War on Drugs" in the late 1960's and many pointed to Mexico as a source of illicit drugs. The increased criminalization of marijuana worked to incorporate large-scale criminal prosecution at the border, as well. In 1969, President Nixon launched Operation Intercept, which mandated surprise individual inspections of any and all border crossings, whether they were by plane, car, or foot. Thousands of additional Border, Customs, and Immigration agents were dispatched to the Mexico border to carry out the mission and virtually shut down the border. Measures taken by Nixon to fortify the border fence was amplified by subsequent administrations.
Many Americans accuse Mexico of failing to match the United States' level of effort to enforce the border in the present day, which presumptively is because the US has more at stake. (1)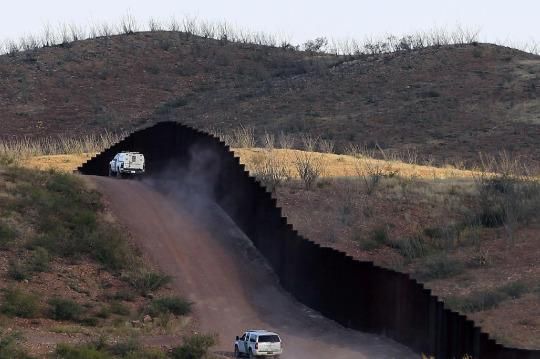 U.S. Border Patrol agents drive along the border fence near Naco, Arizona. (Photo: Ross D. Franklin/AP)
In 1994, Rep. Duncan Hunter (R-CA,1981-2009) legislatively mandated the construction of 14 miles (23 km) of security fencing on the international land border separating San Diego County and Tijuana, Mexico. In 2005, Hunter introduced legislation calling for the construction of a reinforced fence along the entire U.S.-Mexico border, citing crime statistics as measures of San Diego-Tijuana fence's success. After successfully adding an amendment to a House-passed bill that ultimately stalled in House-Senate negotiations, Hunter's amendment was later incorporated into H.R. 6061, the Secure Fence Act, introduced by New York Congressman Peter T. King. Duncan said that if he becomes President, the 754-mile (1,213 km) double layer border fence will be built in less than 12 months. (2)
Duncan Hunter: "We built this double fence here at the Mexican border in San Diego and reduced the [inflow] of hundreds of thousands of people and tons of drugs by more than 90 percent. The fence works. And the new law provides for it to be built 700 miles across Arizona, New Mexico and Texas..." (3)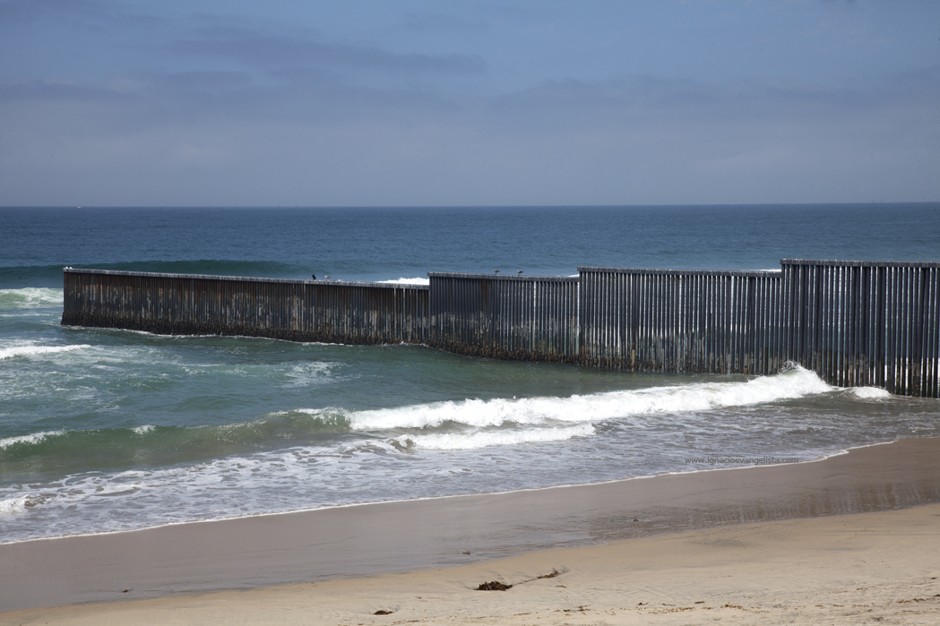 End of the U.S.-Mexico Security Fence at San Diego, CA-Tijuana, Mexico
On June 16, 2015, Republican presidential candidate Donald Trump said that if elected president he will erect a wall along the country's southern border and said that taxpayers won't have to pay a dime for it. "I will build a great, great wall on our southern border and I will have Mexico pay for that wall", Mr. Trump said. (4)
On Feb. 24, 2016. Rep. Duncan D. Hunter (R-CA, 2009-present) told POLITICO that he will support Trump for the Republican nomination, making Hunter one of the first members of Congress to express public support for the Manhattan businessman who is the clear front-runner after his victory in Tuesday's Nevada caucuses. (5)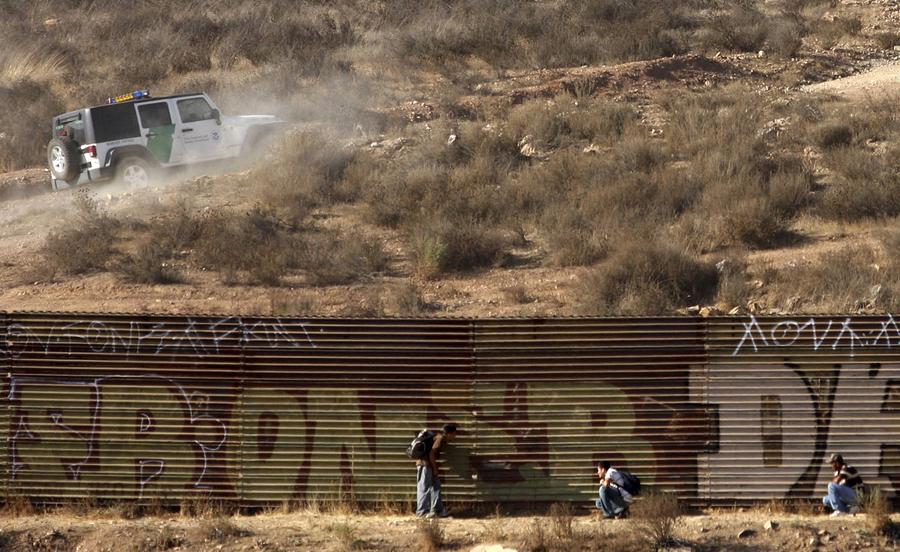 Immigrants hide from a border patrol vehicle while waiting for a chance to cross into the United States at the border fence on the outskirts of the Tijuana, on September 19, 2009. (7)
Construction of the "Border Wall" began in 1993, along the literal line in the sand between San Diego and Tijuana. Thirteen years and $39 million dollars later — when President George W. Bush signed the Secure Fence Act in October 2006, calling for 700 miles of double-layer fencing along the southwest border — 14 miles of the original fencing had been completed.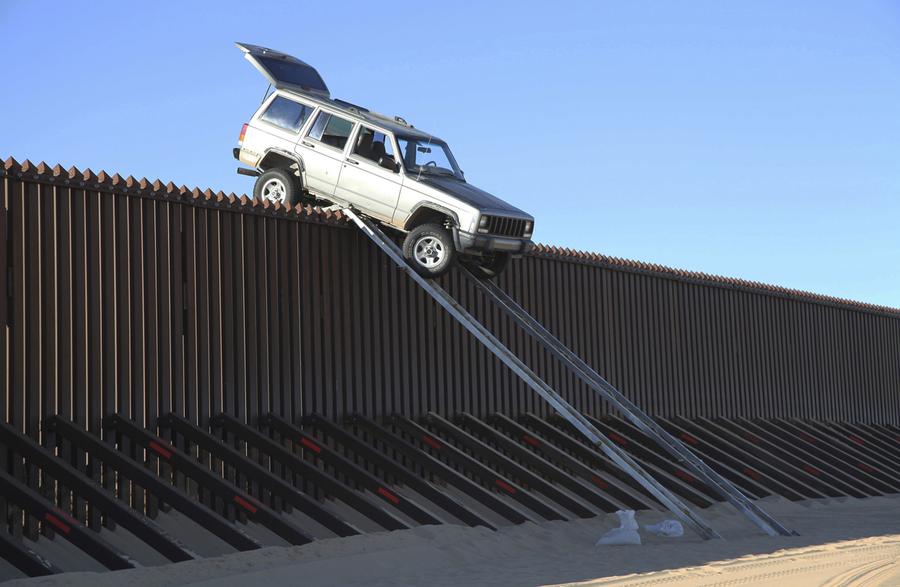 In this photo provided by the U.S. Customs and Border Protection, a silver Jeep Cherokee that suspected smugglers were attempting to drive over the U.S.-Mexico border fence is stuck at the top of a makeshift ramp, on October 31, 2012 near Yuma, Arizona. (7)
As of August 29, 2008, the U.S. Department of Homeland Security had built 190 miles (310 km) of pedestrian border fence and 154.3 miles (248.3 km) of vehicle border fence, for a total of 344.3 miles (554.1 km) of fence. The completed fence is mainly in New Mexico, Arizona, and California, with construction underway in Texas.
As of the second week of January, 2009, the U.S. Customs and Border Protection reported that it had more than 580 miles (930 km) of fence in place. Work is still under way on fence segments in Texas and on the Border Infrastructure System in California. The border fence is not one continuous structure and is actually a grouping of short physical walls that stop and start, secured in between with "virtual fence" which includes a system of sensors and cameras monitored by Border Patrol Agents.
End of U.S.-Mexico border fence under construction in Arizona desert (U.S. to the left, Mexico to the right
As of January 2010, the fence project has been completed from San Diego, California to Yuma, Arizona. On March 16, 2010, the Department of Homeland Security announced that there would be a halt to expand the "virtual fence" beyond two pilot projects in Arizona. At the time, the Department of Homeland Security had spent $3.4 billion on border fences and had built 640 miles (1,030 km) of fences and barriers as part of the Secure Border Initiative. The Republican Party's 2012 platform states that "The double-layered fencing on the border that was enacted by Congress in 2006, but never completed, must finally be built." (6)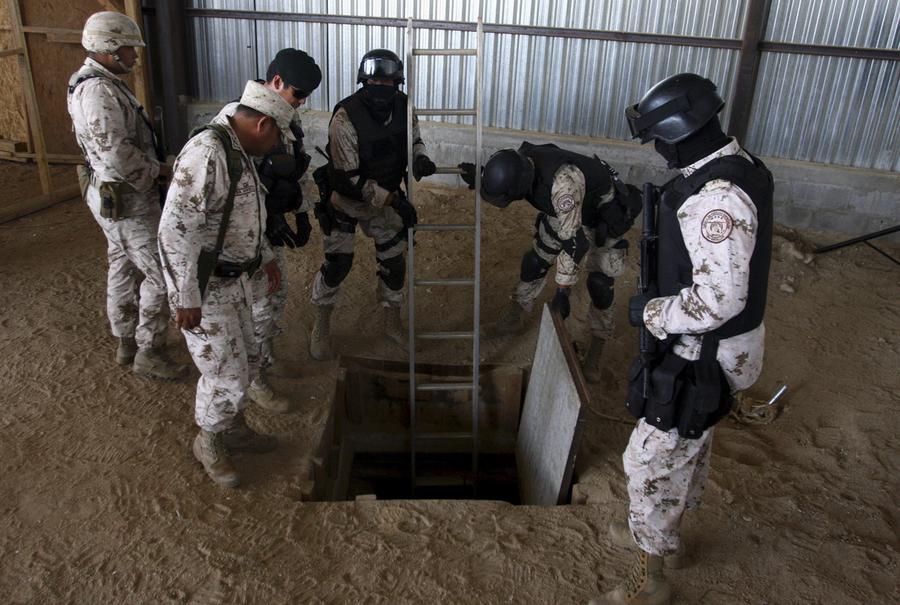 Soldiers prepare to enter a tunnel during a presentation to the media in Tijuana, on November 16, 2011. Police discovered a "major cross-border drug tunnel" running to California from Mexico, and seized 14 tons of marijuana, authorities said. The tunnel linked warehouses in an industrial park south of San Diego and the Mexican border city of Tijuana. (7)
Although the existing U.S.-Mexico border fence has served to slow down the flow of drugs, criminals and illegal immigrants into the U.S., it is far from stopping it. The above photographs help us see that the existing border fence is inadequate to stop the illegal immigration and drug-human trafficking across our southern border. In order to achieve the kind of security all Americans citizens deserve, the existing fence must be replaced by either a taller, more secure double-fence with an high speed road in-between or an unscalable high wall with a high-speed road on the U.S. side. In addition, counter measures must be constructed below ground to counter-act any and all tunneling under the fence or wall.
Ten years after the passage of the Secure Fence Act, much of the fence is yet unfinished as completion of the 700 plus mile security fence at the U.S.-Mexico border remains shut down, courtesy of the Obama administration.
***
References:
(1) https://organpipehistory.com/border/history-of-th-bor...
(2) https://www.yahoo.com/politics/a-brief-history-of-the...
(3) https://youtu.be/C1U9iq-E5zA (Video)
(4) www.washingtontimes.com/news/2015/jun/16/donald-trump...
(5) http://www.politico.com/blogs/2016-gop-primary-live-updates-and-results/2016/02/duncan-hunter-endorses-donald-trump-219725#ixzz423PzTaSL
(6) https://en.wikipedia.org/wiki/Mexico%E2%80%93United_S...
(7) www.theatlantic.com/photo/2013/05/on-the-border/100510/