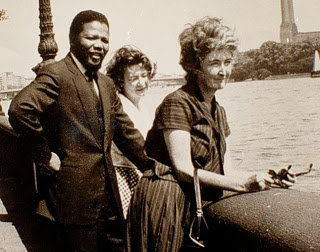 Nelson Mandela in London with Freda Levson and Mary Benson. dailymail.co.uk/
Nelson Mandela spent ten days in London in 1962.
At this time he was the most wanted man in South Africa, as he was the boss of the armed (terrorist) wing of the African National Congress.
In London, Mandela met with Denis Healey a member of Bilderberg who was at one time the cabinet minister in charge of Defence.
Nelson Mandela reportedly worked for MI6
There is a suspicion that Mandela's London trip was being organised by MI6.
Nelson Mandela was taken around London by Mary Benson.
Mary Benson, who lived in posh St John's Wood in central London, and who was of South African origin, became Mandela's official biographer.
Mary Benson had worked for the British army and she was a friend of Denis Healey.
Mary Benson said of Mandela: "He had been visiting the different countries in Africa ... and getting some military training..."
With Mary Benson and Mandela on their tour of London were South African activists Freda and Leon Levson.
More here:
THE MURDEROUS MANDELAS