Custom Search
13 dead after tour bus crashes with semi-trailer truck in Palm Springs (PHOTOS)
Oct. 23, 2016
At least 13 people were killed in a highway accident in Southern California on Sunday, when a tour bus collided with another vehicle near Palm Springs, local authorities say. Dozens more have been reportedly taken to hospitals.
The Riverside County Coroner's office confirmed that 13 people aboard the bus were killed, NBC reported. Thirty-one people were injured, authorities said.
The accident happened in the early morning hours, when the bus was heading for Los Angeles from Salton City, the NBC report said.
Rescue crews were searching the bus for more victims, California Highway Patrol (CHP) Officer Stephanie Hamilton told the Desert Sun newspaper in Palm Springs, adding that dozens have been taken to hospitals in the local area.
All westbound lanes of the Interstate 10 highway north of Palm Springs are closed and traffic is being diverted, the CHP warned.
Images from the scene show that the bus smashed deep into the trailer.
Firefighters struggled to reach victims inside the bus wreckage and pull them out, the Desert Sun reported.
The bus might have belonged to a Los Angeles-based tour company, USA Holiday, the newspaper said, citing the CHP. It may have been on its way from Red Earth Casino in California's Imperial and Coachella Valleys.
*
*
*
*
*
*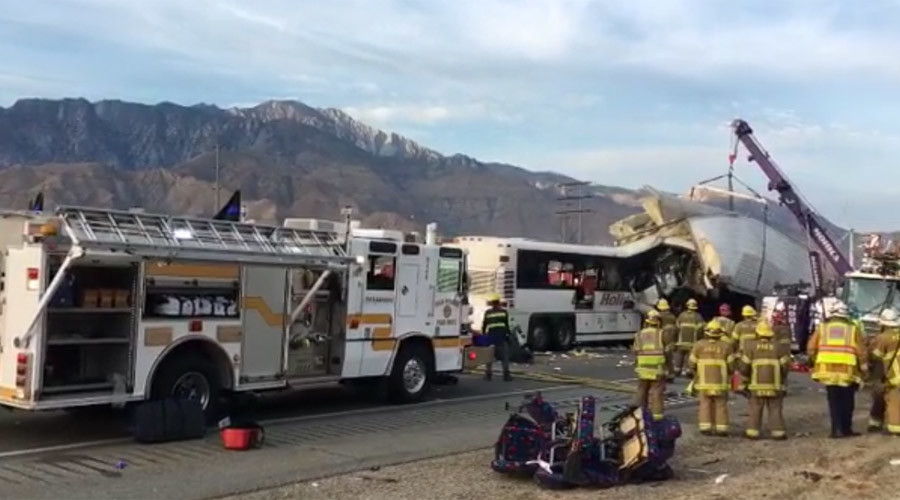 SEE MORE PHOTOS