Custom Search
Petition For WHO Director General To Resign Reaches Over 210,000 Signatures
Tyler Durdan
Declaring a public health emergency, then says it's "not because of China"

This guy is a fucking TRIP
And the WHO wasn't the only organization claiming that China was handling the outbreak well. Early last week the Washington Post claimed that China was working well with the WHO to contain the outbreak.
"Chinese leader Xi Jinping defended his country's handling of the coronavirus epidemic as 'open, transparent, responsible' on Tuesday in a meeting with World Health Organization director general Tedros Adhanom Ghebreyesus, even as the Chinese mayor at the epicenter of the outbreak apologized for withholding information from the public," The Post wrote.
But it is looking like that is less and less the case. Just days later, for instance, the NY Times ran an article saying the Chinese government put secrecy ahead of transparency.
2-2-20

Amidst the Wuhan coronavirus outbreak, there has been plenty of skepticism about the World Health Organization's handling of the epidemic thus far. That skepticism has now grown into a call for the WHO Director General to resign, in the form of a petition with over 200,000 signatures.

Notably, the World Health Organization engaged in a press conference last week where WHO Director General Tedros Adhanom Ghebreyesus praised China repeatedly for the job they were doing in containing the virus.

To some on social media, the conference immediately smelled like the WHO carrying the party line for China's government instead of exercising real world cautions about the quickly spreading epidemic.

WHO DIRECTOR TEDROS "LET ME BE CLEAR THIS DECLARATION IS NOT A VOTE OF NO CONFIDENCE IN CHINA"

Next guy to speak immediately says numbers in China are their concern
Perhaps this is why a newly created petition on change.org has accrued more than 200,000 signatures asking for Ghebreyesus to resign.

The petition states: "On January 23rd, 2020. Tedros Adhanom Ghebreyesus declines to declare China virus outbreak as a global health emergency. As we all know, the Coronavirus is not treatable at the moment. The number of infected and deaths has risen more than ten times (infected from 800 - close to 10,000) within only 5 days."

The petition also claims: "Part of it is related to Tedros Adhanom Ghebreyesus under estimated the coronavirus. We strongly think Tedros Adhanom Ghebreyesus is not fit for his role as WHO Director General. We call for the Immediate Resignation of Tedros Adhanom Ghebreyesus."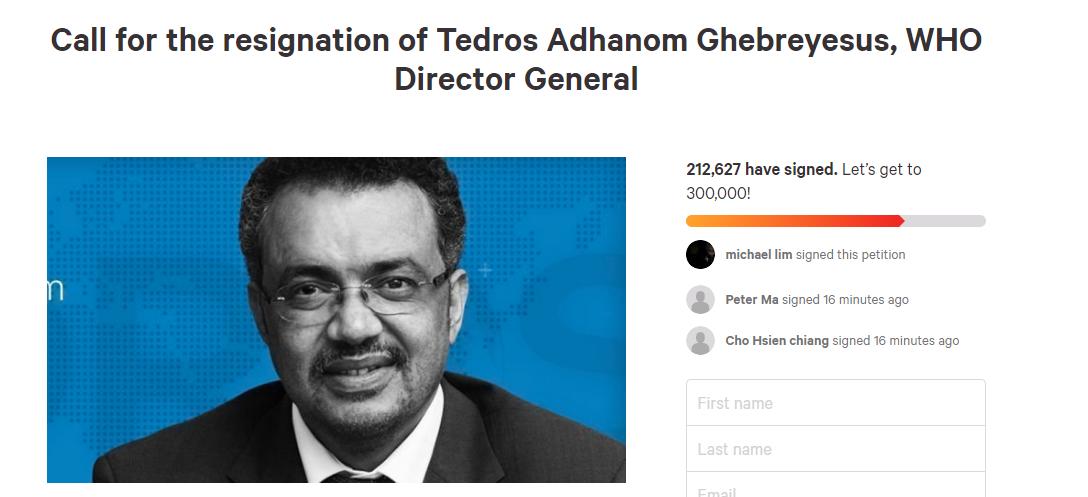 It continues: "A lot of us are really disappointed, we believe WHO is supposed to be political neutral. Without any investigation, Tedros Adhanom Ghebreyesus solely believes on the death and infected numbers that the Chinese government provided with them."

"On the other hand, Taiwan should not be excluded from WHO for any political reasons. Their technologies are far more advanced than some of the countries on the "selected WHO list". Please help the world to gain faith to the UN and WHO again," it concludes.

Recall, back in 2017, Ghebreyesus was accused of covering up epidemics - a story that was also picked up by the New York Times.
https://www.zerohedge.com/geopolitical/petition-who-director-general-resign-reaches-over-210000-signatures