Custom Search
The Death of a Statesman, How a Target Killing is Spun As 'Accident' by the Media. Part II (with videos)
Dr.Joerg Haider would have become the new chancellor of Austria. As our agents have elaborated in a few threads already this "accident" smells a lot.
Let's repeat a few facts:
On Friday, 10th Dr.Haider was appearing about 10:00 pm as a "surprise"-guest at a presentation for a new paper at a local club in Klagenfurt where he maximally drank one glass of champaign, as witnesses stated, indipendently ("he only sipped at one glass"). So he was definitely not "drunk" - btw. I knew him personally and he was not much into drinking, anyhow.
About midnight he left the party and made a detour to drop his personal driver at his home in Klagenfurt - to "give him some days off", as the Haiders were about to celebrate Dr.Haider's mother 90th birthday on Saturday at their home in Baerental. So this would be one of those few "opportunities" where Dr.Haider would drive alone, as normally an official car has to be driven by the assignated driver.
Haider drives a "Sun-Chariot" (Phaeton):
The car was a Volkswagen Phaeton V6 TDI, with two tons weight and 240 HP, max. Speed 237 km/h, equipped with the latest approximity-warning and ABS, 12 airbags(!), 4 wheel drive, automatic six gear and Tiptronic.
According to what we heard first in the news, "Haider was overtaking a mysterious woman and veered off the road shortly after the manouvre". The accident happened right before the entrance of the small village of Lambichl, south of Klagenfurt, on a clear three lane road (where even there would have no possibility of opposit traffic) about 1:00 am. The weather was slightly foggy, as it is normal during that time of the year, and Dr.Haider knew the road perfectly well - additionaly he had an accident almost there in 1993, already.
There was a speed limit of 70 km/h which turned into a (provisorically) 50 km/h-limit, due to a strange, temporary "construction fence" (no idea, no mentioning where it was), which was hit by the car as well, as you could see parts of its shattered frames on the road.
No breaking traces were visible, anywhere. You can see exactly the location where Haider's car veered off the road - there are straight lines without braking attempts - clearly seen in the grassy part, right to the main road that leads into a slight slope that would cause the car to flip over, certainly.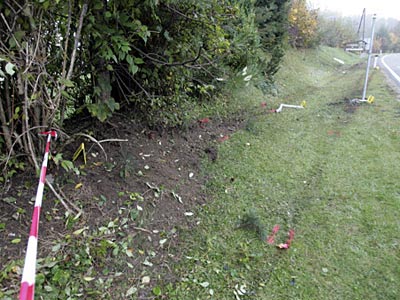 No mentioning of the identity of the main witness anywhere - what seems to be strange - as you would suspect hordes of yellow-press journalists chasing after that woman who must have seen the accident, if you tend to believe anything what was stated of this in the media.
It was first reported that this woman called 911 at 1:08 pm, although we could read that she first "had problems to get through" - a remark that dissapeared shortly after its airing in the early morning hours. There was word as well of "firefighters at the place, who allegedly rescued Dr.Haider" out of the wreck - and that he was "alive".
The same statement of the emergency doctor who was said to have "arrived first" and tried to stabilize the victim, who "showed weak signs of life, although he had suffered severe injuries to his head, chest, broken neck and left arm almost severed".
Now it is stated by the chief of the Klagenfurt hospital, Dr.Koperna, that "he was dead, immediately"! The autopsy will take place in Graz(!) - not at Klagenfurt (?) - according to prosecutur Gottfried Kranz.
Strange, that you could see no blood on the crime scene, especially not on the driver's seat.
Both left doors of the car were missing and can be found - almost undamaged - on different locations at different pictures.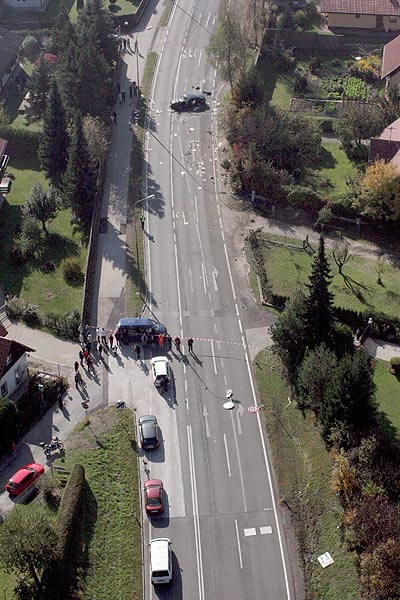 It was concluded by "experts" today that Dr.Haider drove at 88 mph (142 km/h). Again, this should be no problem, as you could make at this part of the road easily more than 100, without any problems - especially with THAT car!
The crime scene was manipulated, afterwards:
If you compare different photos from the night, compared with the pics shot on Saturday, during the day, you will recognize that different items were moved, added or altered, after the "accident".
The two left doors were moved, as the car itself, after the crash. The police is obliged normally to make their markings at the crime scene DIRECTLY after the event.
But - nothing seems to have gone "normally" in this case.
See for that:
http://forum.infokrieg.tv/viewtopic.php?t=5866&postdays=0&postorder=asc&start=150
Besides the fact that there is no word of the mysterious woman in the car after Dr.Haider, anymore, there are likewise no statements of the inhabitants in the houses around, who should have recognized a "big bang" in the night. Strange!
And there is even more: Look at that almost circular HOLE, right above the driver's seat!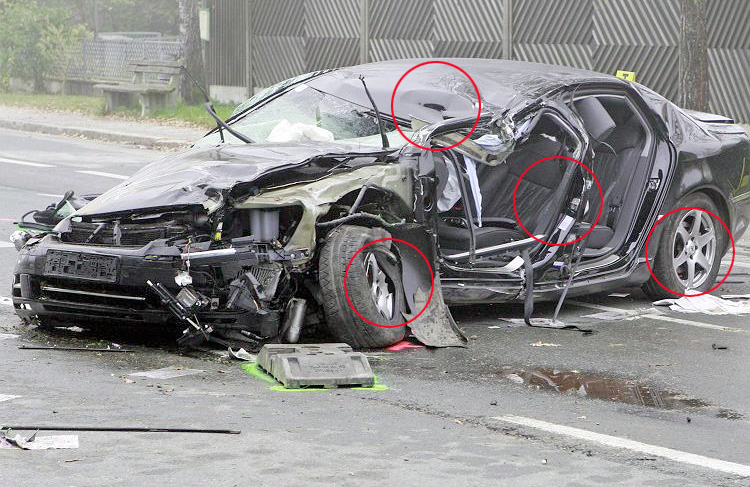 What effect causes an almost perfect circular hole into the roof, located exactly over the driver?
Additionally, as you can see on this picture, the bolts, fixing the left front and back tire have - vanished. The tires are clearly leaned against the remains of the car. Again, the both left side doors have vanished from the car, although the closing mechanisms - along with the electrical components, seem to be unharmed...
Dr.Haider died on the same day as Uwe Barschel was killed by a hit team, exactly 21 years ago.
Dr.Haider had promised to "clean out the mud of today's banking manipulations".
And he was a man who kept his promises always...
www.rumormillnews.com/cgi-bin/forum.cgi
****************************
TO VIEW THE VIDEOS CLICK ON:
Jörg Haider Banken Mafia
http://www.youtube.com/watch?v=OYtor_MPJ3E
Joerg Haider Dead: Accident or Mossad hit?
http://www.youtube.com/watch?v=-W2hATUTOVc