Custom Search
Keshe Foundation: CANCER SOLUTION IN EXCHANGE FOR PEACE
Keshe Foundation
4-17-17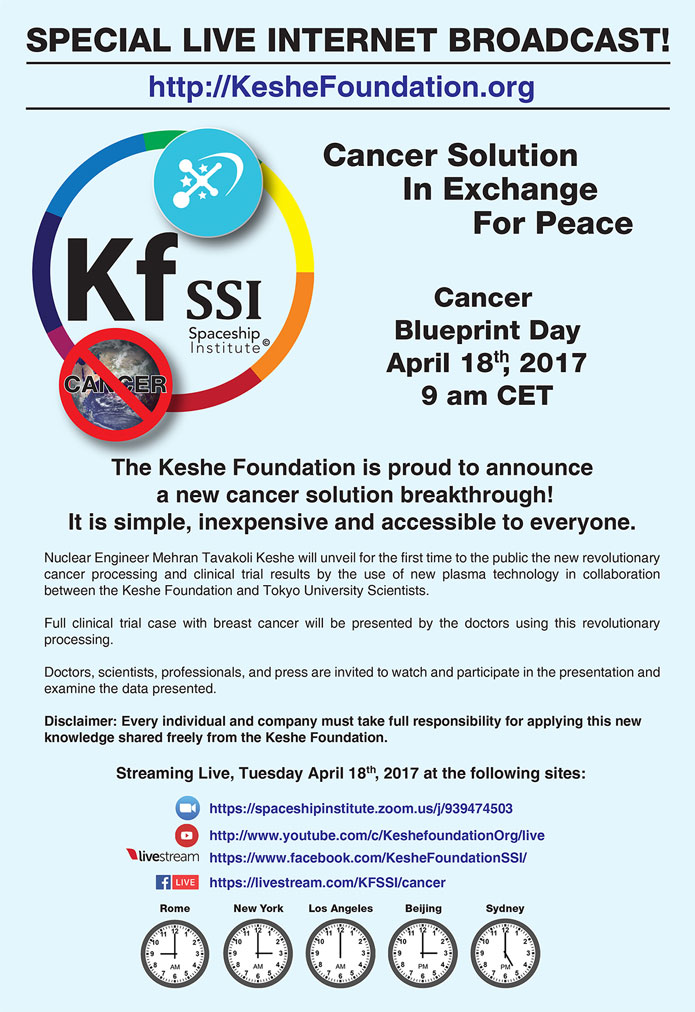 SPECIAL LIVE INTERNET BROADCAST!
Cancer Blueprint Day
April 18 , 2017, 9 am CET
Cancer Solution In Exchange For Peace
The Keshe Foundation is proud to announce a new cancer solution breakthrough!
It is simple, inexpensive and accessible to everyone.
Nuclear Engineer Mehran Tavakoli Keshe will unveil for the first time to the public the new revolutionary cancer processing and clinical trial results by the use of new plasma technology in collaboration between the Keshe Foundation and Tokyo University Scientists.
Full clinical trial case with breast cancer will be presented by the doctors using this revolutionary processing.
Doctors, scientists, professionals, and press are invited to watch and participate in the presentation and examine the data presented.
Disclaimer: Every individual and company must take full responsibility for applying this new knowledge shared freely from the Keshe Foundation.
Streaming Live, Tuesday April 18th , 2017 at the following sites:
Headline Photo Choose File Content Sort Position This option allows you to choose whether or not you'd like the story featured on the homepage. If more than one article is featured, the articles will sort in the order of date posted Content Sort Position Save Print this page | Return to previous page Copyright 2006-2007 - Four Winds 10 - fourwinds10.com