Custom Search
Obesity and Hypertension – Signs of Inequality in Chile
Marianela Jarroud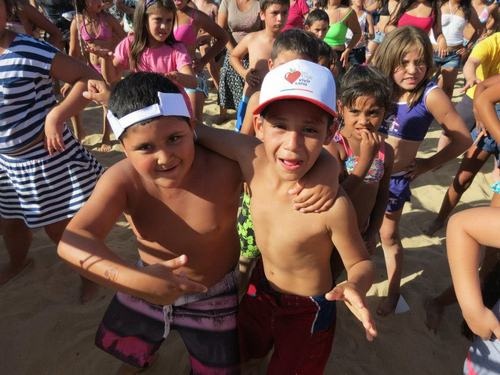 - The prevalence of obesity and hypertension among the poor in Chile is a factor that aggravates inequality, requiring public policies for prevention and mitigation of the high cost of a healthy diet.
The most recent national health survey, carried out in 2012, found that 8.9 million people in Chile are overweight or obese, equivalent to 67 percent of the population.
The figures indicate that there are 2.1 million more obese people now than in 2003, when the previous survey was done. Morbid or extreme obesity has increased by more than 100 percent and now affects 300,000 people.
Broken down by socioeconomic level, 35.5 percent of the poorest, least educated segment of the population is overweight, compared to 24.7 percent of the middle-income segment and 18.5 percent of the highest.
Chile's statistics are in line with the results of a 2012 study by the World Health Organization (WHO), which found that the prevalence of obesity worldwide nearly doubled between 1980 and 2008.
Latin America leads that increase. Mexico has one of the highest obesity rates in the world. And in South America, Chile has the third highest obesity rate, after Argentina and Venezuela. It is also the country with the highest proportion of men with hypertension or high blood pressure in South America.
Juan Carlos Prieto, a cardiologist at the Clinical Hospital of the University of Chile, said the figures are not new and reflect complex aspects of social inequality.
"Chile also has record carbohydrate consumption, especially of refined flours, like bread," he told IPS.
"If you make a quick survey, especially among low-income people, you find the staple food is bread: a person can eat up to six to eight servings a day, which means consuming the same number of grams of salt a day," he said.
In his view, that is the nub of the problem. "A salty diet, plus obesity derived from over-consuming carbohydrates with the calories they imply, explains the environmental factor of the level of hypertension in Chile," he said.
Prieto, an associate professor of pharmacology at the University of Chile School of Medicine, said the prevalence of hypertension and obesity is higher among people with low incomes, "and there is quite a significant difference" between this group and other sectors of the population.
The problem, he said, is that the prices of fruit and vegetables, essential elements of a healthy diet, have soared in Chile in the past 10 years.
For instance, a kilo of apples used to cost 20 cents of a dollar in street markets, and now costs 1.50 dollars. In supermarkets, the price is even higher.
As a result, Chileans are eating on average 86 kilos of bread a year, an amount that is worrying the experts.
"People on low incomes resort to the cheapest foods, like pasta or bread, which fill them up quickly and do not cost very much," Prieto said.
This, together with sedentary habits and high levels of stress in society, led the government of President Sebastián Piñera to implement the Elige Vivir Sano (Choose Healthy Living) programme, aimed at changing dietary habits and fomenting the practice of sports among Chileans.
When Piñera took office in March 2010, "over 88 percent of the population did less than 20 minutes exercise three times a week," the director of the government initiative, Pauline Kantor, told IPS.
She added that this is a social problem, as it affects mainly the most disadvantaged sectors.
"Chile is a sick country, and if we do not take care now, in another 10 years we will be in deep trouble when it comes to heart disease and diabetes, and we will have health costs that will be difficult to sustain," she said.
Elige Vivir Sano, headed by Piñera's wife, Cecilia Morel, is one of a number of public policies being taken forward jointly by several organisations.
For example, the Education Ministry decided to increase the time allotted to physical education in schools, from two to four hours a week, while the Health Ministry extended the traditional children's programme of health control to teenagers, so that overweight adolescents are referred to nutritionists for treatment.
Another novelty is the installation of exercise equipment in public squares, now called "active plazas." These have been set up in 172 out of the 346 municipalities in the country.
"We are not asking people to join a programme at a gym, but only to learn some exercise routines so they can work out at home or in nearby squares," Kantor said. The campaign includes radio and television advertising that invites homemakers to exercise using one-kilo packages of rice or beans as weights, to get people to adopt a home exercise routine.
Kantor said that while it would take 10 years to see real change, some progress has already been made. "The last survey of physical activity and sports found that 500,000 Chileans are no longer sedentary, an important achievement," she said.
Also, "40 percent of the people who contacted Elige Vivir Sano said they had changed at least one habit," she said.
Now the goal is to turn the programme into law. The draft bill, which will be presented to Congress soon, includes the creation of an executive secretariat, under the Ministry of Social Development, that will coordinate programmes from different ministries. The aim of the bill is "to give the changing of habits the priority that Chile needs," said Kantor.
In the view of Prieto, the cardiologist, the initiative is "interesting," but the main thing is to create concrete possibilities for bringing about change.
"When it comes to diet, I repeat, people are urged to eat five fruits a day, but you have to look at the cost of that compared to a plate of pasta, for a family living on the minimum wage," which in Chile is only 400 dollars a month.
"It has to be evaluated whether this depends only on individuals, or whether the state has to take action to make this happen, for instance by increasing access by the lowest-income sectors," he said.
http://www.ipsnews.net/2013/03/obesity-and-hypertension-signs-of-inequality-in-chile/