Custom Search
FREE GAZA NOW! AlAqsa in Danger!
AlHelou, and Angela Godfrey-Goldstein.
While the world eyes on Gaza , Israeli-Zionist criminals raids Islamic Movement
offices. This raid came after well-organized "AlAqsa in Danger" conference!
More updates on Zionist defeat in Gaza from yourPDFDU correspondent, Yousef
AlHelou, and Angela Godfrey-Goldstein.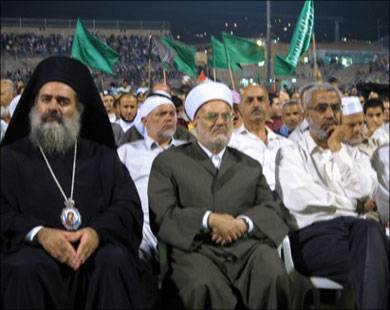 Israeli-Zionist criminals raid came after "AlAqsa in Danger " recent conference.
Mojahid Sheik Raed Salah: Israeli Police didn't
leave one paper at the Islamic Movement offices.
First, please accept my apology for these many news and update emails. As you can see that this story, the Gaza Free Boats, is worldwide news story and important development in defeating Zionist plans to silence the world.

Second, while the world eyes on Gaza , Israeli-Zionist criminal gang raided the Islamic Movement offices in the northern Israeli Arab town of Umm al-Fahm.

This raid came after the facts presented at "AlAqsa in Danger" conference recently. The Islamic Movement has for many years documented Israelis-Zionist ongoing plans, activities and development to damage AlAqsa mosque and Christian sites.

As usual, Israeli Zionist claim that "Prior to the raid, the Shin Bet had gathered intelligence revealing that Al-Aqsa was coordinating with Hamas commaders in East Jerusalem, by giving them financial and logistical support for their activities in the capital. A number of Umm al-Fahm residents and movement activists arrived at the Al-Aqsa offices to watch the raid. Police said they seized documents, computers and other material belonging to the institute before closing it down."

Click HERE to read AlJazeera Report (in Arabic).

Click HERE to read Haaretz Report.
Lessons from SS & Gaza Free Boats: Zionism can and must suffer a defeat.

Haaretz reported 23/8/08 that:

"Despite an Israel Defense Forces plan to halt boats bearing left-wing activists on their way to Gaza , the government decided to permit the boats to reach Gaza shores in order to avoid a public relations disaster.

Senior political sources in Jerusalem said that the fact that Israel allowed the boats to reach Gaza "took the wind out of the sails of the left-wing activists who were seeking to create a provocation."

However, after further consultation, it was decided on Friday to avoid a confrontation and to allow the boats to reach the Gaza Strip. In the wake of that decision, urgent directives were sent to Israel 's embassies around the world regarding the stance they should take concerning this event.

"These are professional provocateurs and we did not want to cooperate with that on the open seas," a senior political source in Jerusalem said. "Instead of letting the entire international press obsess about this for a week, the boats received almost no coverage, simply because there was no confrontation."

Click HERE to read Haaretz full report "Israel: We let protest boat reach Gaza to stymie bad press"

That's why this Digest writes about the importance of the mass media role in eliminating Zionism.

"Different climates of opinion therefore exist in Sydney and Melbourne, and it is from the SMH and ABC that most opinion leaders, such as parliamentarians, draw their opinion." (Labor MP, Michael Danby. Australian Jewish News 27th September, 2002)

yourPDFDU Gaza correspondents, Yousef AlHelou, send you the following updates about the two Free Gaza boats.

Click HERE to watch AlHelou's YouTube video.

And Angela Godfrey-Goldstein has sent you the following comment confirming what has been said at the previous Digest about ABC. She wrote that:

Yes it's true. When Matt Brown went to Georgia (as I recall), Yoav called me and I made sure he's on my lists. He already knew that Eliza on the boat is
Australian because Matt had interviewed her by phone on Cyprus from Jerusalem ... Hope they
manage to do it again when they return!
A.
Angela Godfrey-Goldstein
Media Team
Free Gaza Movement
0547-366 393
www.anis-online.de/office/events/FreeGazaSong.htmwww.flickr.com/photos/29205195@N02/
Please click on the above links on Angela's signature. Please listen and watch ABC major current affairs
programs tomorrow (AM, TWT, PM, 7.30 Report and Lateline) and see if ABC's executive producers
sanctioned any of ABC Middle East Correspondent Ben Knight reports.
Shame on the Australian mass media for their complicit silence.
Make no mistake, Palestinians will remain resilient and defeat Zionism.
Falastin quote:
"My message to the international community is that our silence and complicity, especially
on the situation in Gaza, shames us all. It is almost like the behavior of the military junta
in Burma " Desmond Tutu, 30 May 2008
Hope that this Digest advance the debate and action toward the urgent need for an
'Australian Coalition Against Israeli Apartheid'
This is the only way to defeat Israel and left the veil from Zionism. Australian people and institutions must
learn about the Zionist state.
We have to stop talking about Palestinian rights. We must use the law.
The domestic and international law in Palestinian side.
Can we call for a national meeting to discuss and form this important idea?
This is the only way to defeat Israel .
Looking forward to hear from you.
"We committed Nazi acts." Aharon Zisling , Israel 's first Agriculture Minister
"There is no doubt that many sexual atrocities were committed by the
attacking Jews. Many young (Arab) girls were raped and later slaughtered.
Old women were also molested." General Richard Catling, British Army Assistant
Inspector after interrogating several female survivors
(The Palestinian Catastrophe, Michael Palumbo, 1987)
In peace