Custom Search
John McCain Confronted by Oak Flat Protesters and Chased Off Navajo Nation
Miriam Wasser
Aug. 17, 2015
Republican U.S. Senator John McCain did not exactly receive a warm welcome when he visited the Navajo Nation this weekend to commemorate the Navajo Code Talkers. Throughout the day, he was confronted by activists chanting: "Water is life!" in the Navajo language and waving banners painted with messages stating: "McCain = Indian Killer" and "McCain's not welcome here."
Though McCain's visit to the capital city of Window Rock ostensibly had nothing to do with environmental politics, he was met repeatedly by young activists concerned about their future supply of water and other hot topics like copper mining in Oak Flat.
According to Deidra Peaches, a Navajo woman who filmed some of the more tense interactions, "The activists were from all over [the West] and came to show inter-tribal solidarity." And though they didn't necessarily interrupt any of the senator's plans, she says, "McCain and his entourage were definitely thrown off."
"The primary reason why there was such a strong resistance to McCain's presence was because of the issues we're facing around water rights," explains Kim Smith, one of the protesters. "As young people, we're realizing that if we do not stand up for our water, we will be left with none."
Many of the activists brought up the recent Animas River spill, which unleashed 3 million gallons of sludge and caused a water ban in downstream areas of the Navajo Nation, while others were concerned with McCain's recent comment that he was interested in renewing discussions about the controversial Navajo and Hopi Water Rights Settlement. (The Water Rights Settlement was part of legislation introduced in 2012 by McCain and former Senator Jon Kyl that would have required the Navajo and Hopi tribes to waive their water rights to the Navajo aquifer for "time immemorial" in exchange for infrastructure that would pipe clean water into three remote areas of the reservation. Many in the Navajo and Hopi communities disapproved of the proposal.)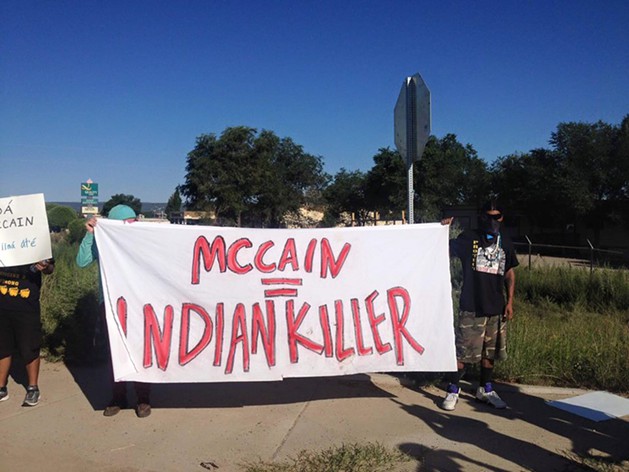 The Code Talkers celebration began early Friday morning, and so too did the protests.
After a parade and gathering of tribal and state government officials (Arizona Governor Doug Ducey was there, too), high school senior Adriano Tsinigine noticed that people were swarming around various politicians trying to shake their hands and get photographs, and he saw an opportunity to make a statement about copper mining at Oak Flat.
He tells New Times that he pushed his way to the front of the group surrounding McCain, and posed for a grip-and-grin photo.
"I pulled out my [Protect] Oak Flat card," he says. When McCain noticed it, "He took it, looked at it, and threw it back at me."
(McCain, a vocal supporter of mining in the area, pushed through the land-exchange deal that gave international mining company Rio Tinto the ability to mine copper under Oak Flat, which native groups say is a sacred Apache site.)
SEE VIDEO