Custom Search
932,000 AMERICANS DROP OUT OF LABOUR FORCE, 623,000 FULL TIME JOBS LOST JUST LAST MONTH
Mort Amsel
Nov. 8, 2013
First, the labor force participation rate, which plunged from 63.2% to 62.8% - the lowest since 1978! But more importantly, the number of people not in the labor force exploded by nearly 1 million, or 932,000 to be exact, in just the month of October, to a record 91.5 million Americans! This was the third highest monthly increase in people falling out of the labor force in US history.
(SCROLL DOWN)
*
*
*
*
*
*
*
*
*
*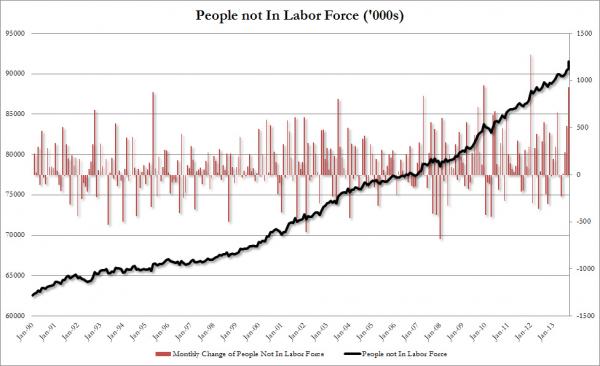 So much for the surge in 691,000 full-time jobs in September. One short month later, indicating just what a farce the BLS's sampling process is, while the algo frenzy-inducing establishment survey showed a gain of 204,000 workers, the household survey had some other ideas. True, the headline household survey number rose by an almost identical 213,000 workers, however it is when trying to foot that number into the actual components, when one gets a headache. Because according to the same survey,
a whopping 623,000 full-time workers (supposedly government) lost their jobs in October
, nearly offsetting the entire 691,000 gain the month before which it turns out was purely for Obamacare (now hopelessly damaged) optics.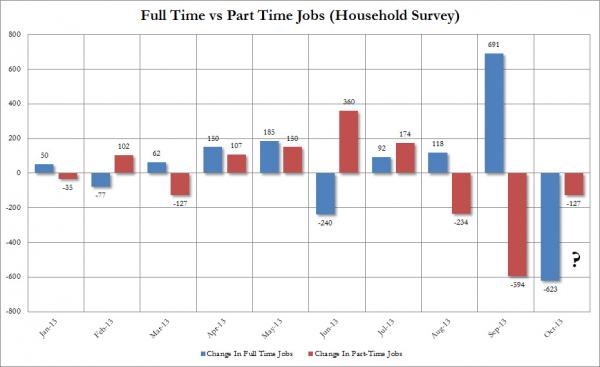 127,000 part-time were also lost. So I wonder, how low will the unemployment rate dop this month? What a farce. a third of the population of the US is not woring, out of the labour force (33% roughly) and yet our unemployment rate is only 7.3%, up 0.1% from last month. Somebody for sure is cooking the books. Thats simple math and it does not add up. -Mort