Custom Search
School letter threatens parents with call to DHS
Juy 9, 2015
SALEM, Ore. —
The principal of a Salem, Oregon, elementary school is apologizing for a letter sent to parents that said the school will call DHS if parents don't pick up their children on time each day.
KIRO 7 affiliate KOIN 6 News was given the June 24 dated letter from a parent at Swegle Elementary School.
In the letter it said:
"Children must be picked up on time. If they are not picked up on time, we will call DHS and you will then have to pick them up at court the next day."
An official with the school district said the principal is apologizing for the letter and will likely draft a new, corrected letter explaining what went wrong.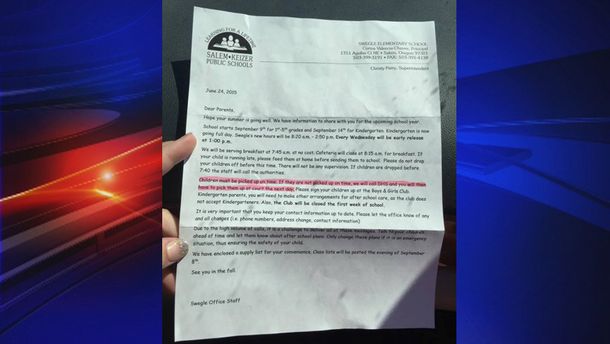 Click here to read the letter.
http://www.kirotv.com/news/news/school-letter-threatens-parents-call-dhs/nmttS/