Custom Search
HENEGHAN: NSA Operation Stellar Wind Espionage Against the American People
Sunday, February 1, 2009
NSA Soperation Stellar Wind Espionage Against the American People
by Tom Heneghan,
International Intelligence Expert
Sunday February 1, 2009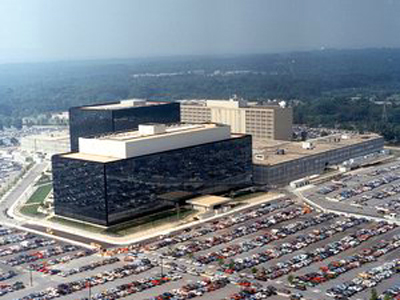 TREASONOUS NSA (National Security Agency), Ft. Meade, Maryland's ILLEGAL Spying Against the American People
United States of America – Today we bring a report from Wayne Madsen detailing the criminal NSA's (National Security Agency) ILLEGAL spy program "Operation Stellar Wind" that was launched against the American People in early February 2001.
This spy program was immediately launched after Bush's blatant THEFT of the year 2000 presidential election and served as a precursor to the 9/11 'black op' attack on America, which set in motion pseudo 'Martial Law' in America.
When you read this Wayne Madsen report you will see that major elements of both Republican and Democratic leadership approved this criminality, including current White House Chief of Staff and former Democratic Congressman, Rahm Emanuel [head of the North American Israeli Mossad].
Note: The companies that enabled the NSA spy program were Israeli-owned Odigo and Comverse.
Item: Israeli AIPAC controlled Congress types like Jane Harman, D-CA, along with Senator Diane Feinstein, D-CA, and, of course, Israeli MEGA Mossad agent Rahm Emanuel himself, approved of Bushfraud's ILLEGAL spy program and enabled it for eight (8) years, as did the criminal, corporate, Mossad-controlled media elite.
When you read Madsen's report you will find that numerous Democrat Governors were targets of "Stellar Wind" aka Bushfraud, Karl Rove and Rahm Emanuel.
It is my own opinion that this all ties in to the Bernard Madoff case as it relates to the looting of state pension funds across the United States.
We have already detailed in previous briefings that former New York Democratic Governor Eliot Spitzer and former Democratic Governor of Illinois Rod Blagojevich were ILLEGALLY wiretapped by the NSA.
Both were on the trail of Bernard Madoff and his criminal ponzi scheme.
Reference: Blagojevich of Illinois had also allowed cheap prescription drugs from Canada to come in to Illinois, and, since the entire Illinois State legislature, both Democrats and Republican were receiving massive campaign contributions from U.S. pharmaceutical companies, Blagojevich suddenly came a problem.
So you see, folks, Blagojevich was stepping on the wrong toes.
Now, enjoy this extraordinary report by Wayne Madsen, which clearly shows we live in a Gestapo state.
Be sure to scroll down below Wayne Madsen's report for our latest update on the Bernard Madoff ponzi scheme and the threatened presidency of Barack Obama.
http://www.waynemadsenreport.com/
Stellar Wind blows Democratic governors out of office
By Wayne Madsen
January 30-February 1, 2009
WMR has previously reported on the malfeasance of the U.S. Attorney for Northern Illinois, Patrick Fitzgerald, in his investigation of the 1993 World Trade Center bombing and the outing of CIA covert agent Valerie Plame Wilson. In the case of the 1993 attack, Fitzgerald sat on critical signals intelligence (SIGINT) evidence that would have tied the bombing to Osama bin Laden in exile in Sudan. Bin Laden remained a U.S. intelligence asset at the time of the World Trade Center bombing so Fitzgerald, following orders from Langley, simply failed to enter into evidence wiretaps communications between the Sudanese Mission to the United Nations in New York and the Sudanese Foreign Ministry in Khartoum that contained references to Bin Laden. In the outing of Plame, Fitzgerald refused to enter as evidence tapped phone calls of Vice President Dick Cheney's Chief of Staff I. Lewis "Scooter" Libby and others that would have proven the severe damage of Libby's actions to the covert counter-proliferation operation involving Plame and her Brewster Jennings & Associates cover firm. Fitzgerald's actions in covering up the World Trade Center link to Sudan and Bin Laden was so significant that Libby's New York Times interlocutor, Judith Miller, once asked this editor for my sources on the Sudanese wiretap story. I told her that one was well known, the late ABC News reporter John McWethy had reported on the Sudan UN mission wiretaps by the National Security Agency (NSA) in 1993. The other, a confidential source in Khartoum , remains confidential. McWethy died in a February 2008 skiing accident in Colorado.
On January 29, the Illinois Senate voted unanimously to remove from office Democratic Governor Rod Blagojevich. This was based on the selective release of recorded wiretaps of Blagojevich's conversations to the Senate by Fitzgerald. It appears that Fitzgerald only likes to use wiretaps when it benefits him and his patrons politically.
Fitzgerald had Blagojevich arrested based on a criminal complaint but the U.S. Attorney, who grandstanded at a press conference about Blagojevich causing Abraham Lincoln to "roll over in his grave." Fitzgerald could not get a grand jury to indict Blagojevich last October and he has asked for an extension for the grand jury because he still lacks the evidence to convict. However, Fitzgerald was able to use selected wiretaps to convince the Illinois Senate to remove Blagojevich from office in a political, not a criminal, action. Blagojevich is also barred from ever runing for political office again in Illinois.
WMR has been discussing the Blagojevich impeachment with some individuals close to some other Democratic governors. It is becoming clear that what Fitzgerald has in his dossier of evidence on Blagojevich may be wiretaps that were conducted without a court order as part of the Bush White House's super-secret STELLAR WIND program that even then-Attorney General John Ashcroft refused to re-authorize from his hospital bed in Washington.
If Fitzgerald's evidence is from illegal government wiretaps, including the drift net surveillance of the communications of Americans, including their credit card transactions, that was recently revealed by former NSA employee Russell Tice, as well as the surveillance extent of STELLAR WIND revealed by former Department of Justice prosecutor Thomas Tamm, there is a reason to believe that Fitzgerald does not have legal evidence and
leaked selected wiretaps to the Senate in Illinois to have Blagojevich removed in a political process.
Blagojevich wanted to call Barack Obama's Chief of Staff Rahm Emanuel and Obama adviser Valerie Jarrett as witnesses in the alleged "sale" of Obama's U.S. Senate seat matter but was rebuffed. Emanuel has decided to back the previous Bush administration in trying to stay a lawsuit in the 9th U.S. Circuit involving the Bush administration's warrantless wiretap program. This is an indication that Emanuel and his Israeli intelligence interlocutors do not want to see the program go away.
Why would Emanuel and Obama want to keep STELLAR WIND in place and deny plaintiffs the right to know how extensive the program was? First, it keeps technical details of the operation secret, including the involvement of Israeli telecommunications firms. Second, it gives the Obama administration to same power of blackmail over political enemies as was enjoyed by Dick Cheney, Karl Rove, and others in the Bush White House.
It is now known that STELLAR WIND, or a precursor variation of it, was in place before 9/11. Since that time, five Democratic governors, including the governors of three large states, have been forced from office.
The first victim was California Governor Gray Davis. Davis was accused of colluding with campaign contributors from the energy industry which resulted in California's sky-rocketing energy rates in 2001. It was none other than George Soros' maven, Arianna Huffington, who made the charge that Davis was too cozy with power company executives. It was a false charge but Davis was put on the political ropes. Davis was recalled as Governor in October 7, 2003, 10 months after he won re-election by a wide margin, and was replaced by Republican Arnold Schwarzenegger.
Davis' connections with energy industry lobbyists were plastered all over the web and were talked about on right-wing radio talk shows. How would this information been known? We now know that the Bush administration began its warrantless wiretapping operation shortly after coming to office in January 2001. In the next few months, California 's energy rates began to shoot skyward, with the assistance of Bush's pals at Enron, including Ken Lay.
Davis was the first victim of "pay-to-play" allegations involving Democratic governors. The next was Alabama Democratic Governor Don Siegelman, who after being ejected from office in a dubious election rife with voting machine and vote counting fraud, was indicted by a U.S. Attorneys office with strong connections to Rove and ultimately convicted and immediately jailed. Siegelman was accused of cutting a favoritism deal with Healthouth CEO Richard Scrushy. STELLAR WIND was in full operation when he was convicted in his second trial in 2006. His first trial was thrown out by the federal judge based on "disallowed evidence." Was it perhaps illegally obtained wiretaps? Siegelman was convicted in his second trial presided over by the GOP operative and Pentagon and CIA contractor, U.S. Judge Mark Fuller.
Democratic Governor victim number three was anti-Wall Street fraud crusading New York Governor Eliot Spitzer. Spitzer was forced to resign in March 2008 after it was revealed by GOP dirty tricks operatives that Spitzer had used the services of an escort service that was later found to be connected to Israeli government elements. Spitzer's bank account information had been turned over by HSBC to the Internal Revenue Service and FBI.
Victim number four was Blagojevich, the governor of Illinois. Fitzgerald seems to be having problems with presenting valid evidence against Blagojevich to a grand jury. Why?
The fifth to fall victim to "pay-to-play" allegations was New Mexico Democratic Governor Bill Richardson, who is apparently the subject of a current grand jury. Richardson was forced to withdraw his name from consideration as Secretary of Commerce in the Obama administration. Republican Senator Judd Gregg of New Hampshire is now being considered for the post. WMR has learned that there is bad blood between Richardson and Emanuel. This begs the question: STELLAR WIND was used by Rove to go after Democratic enemies of the Bush White House, so might Rahm now be using it to attack foes of the Obama White House, both Democrats and Republicans?
Richardson's phones in Santa Fe have long been wiretapped by NSA, a fact previously reported by WMR and confirmed twice to this editor, first by Richardson's press secretary and then by Richardson himself.
There may be additional victims of STELLAR WIND hanging in the wind. On January 9, 2009, Baltimore Mayor Sheila Dixon was indicted in a case involving her alleged use of pre-paid gift cards. The case was brought by a Maryland state prosecutor. The evidence against Dixon included wiretaps of her cell phone and Blackberry. Dixon's predecessor, current Maryland Democratic Governor Martin O'Malley was a victim of a Spitzer-like GOP smear campaign about O'Malley's alleged "marital infidelity" in 2005 that originated from a aide to then-Republican Governor Bob Ehrlich.
New Jersey Democratic Governor Jim McGreevey was forced to resign after word leaked to the press that an Israeli intelligence honeytrap named Golan Cipel was involved in a homosexual relationship with McGreevey.
McGreevey's successor, Democrat Jon Corzine, was the subject of "pay-to-play" allegations involving his romantic relationship with Carla Katz, a union president. Republicans appeared to have been tipped off about incriminating evidence against Corzine in email exchanges between him and Katz.
Wisconsin Democratic Governor Jim Doyle was enmeshed in the political prosecution by the Bush Justice Department of Georgia Thompson, a state employee. The implication aganst Doyle was yet another "pay-to-play" allegation involving a state contract. Thompson's conviction was overturned on appeal.
Massachusetts Democratic Governor Deval Patrick is the subject of a criminal investigation that also involves a corruption investigation of Democratic House Speaker Salvatore DiMassi. The probe was launched in December 2008.
Just a few days before Bush left office, Ohio Democratic Governor Ted Strickland's former director of faith-based initiatives, Robert McFadden, was indicted for involvement in on-line prostitution. McFadden's email and other on-line transactions were used as evidence.
Aside from Connecticut Republican Governor John Rowland, who was indicted anf jailed for corruption for a Ted Stevens-like deal involving home repairs in return for state contracts, no other incumbent Republican Governor was investigated or indicted by what is now known to have been a political Justice Department and cadre of U.S. Attorneys under Bush. Although there have been serious corruption allegations brought against current and former Republican governors Rick Perry of Texas, Jeb Bush of Florida, Matt Blunt of Missouri, Linda Lingle of Hawaii, Jim Gibbons of Nevada, Sarah Palin of Alaska, Bob Ehrlich of Maryland (who was linked to the Pamela Martin & Associates escort service that also involved Cheney), Sonny Perdue of Georgia, Bob Riley of Alabama, and Mitch Daniels of Indiana no indictments were ever brought by the Bush Justice Department.
Republican Governor Bob Taft of Ohio and Ernie Fletcher of Kentucky were indicted on state criminal misdemeanor charges for corruption but were never the subject of federal corruption charges by Republican U.S. attorneys.
The fear at NSA was always that its vast surveillance capabilities could always be used as a political weapon. It appears that STELLAR WIND turned NSA's capabilities into such a weapon, one that may continue to be used by the the new "Rove," Rahm Emanuel, is meting out punishment to his political enemies. Blagojevich and Richardson have already fallen. House Speaker Nancy Pelosi, Pennsylvania Governor Ed Rendell, Kansas Governor Kathleen Sebelius, and others who have been shut out by the Obama administration may want to keep checking their rear view mirrors. It is no secret that in Pelosi's case, Emanuel would like to see her replaced by House Majority Leader Steny Hoyer of Maryland, whose sister once served as the executive director of the American Israel Public Affairs Committee (AIPAC).
http://www.waynemadsenreport.com/
See our latest explosive backbreaking intelligence briefing immediately below or at:
Obama Presidency Threatened by Bush-Clinton Crime Family Coup, and
Bernard Madoff Ponzi Scheme Update
by Tom Heneghan
Saturday January 31, 2009
United States of America – It can now be reported that President Barack Obama's authority as President is almost non-existent, and, accordingly, under semi-house arrest…
See below or click for full explosive briefing
http://blogs.myspace.com/index.cfm?fuseaction=blog.view&friendID=147509065&blogID=467715237
http://blog.myspace.com/tom_heneghan_intel