Custom Search
Look Who's Just Been Indicted For Obstruction Of Justice — Leaves FBI Shaking In Their Boots
Craikg Bennett
10-13-17
The FBI has had a difficult time of it for several months. That's the sort of thing that happens when one gets involved with corrupt individuals such as the Clintons and Mr. Obama. Of course, it's the FBI's job to "get involved" with corrupt people, but that should be from a position of enforcing the law, not one of letting things slide to benefit political interests.
To add to the problems the agency is dealing with as a result of Mr. Comey's questionable actions, it has now been revealed that another crime appears to have been covered up.
The Daily Caller is reporting that an FBI agent has been charged with obstruction of justice and making false statements in a shooting incident, and that he faces up to 25 years in prison if convicted on all counts.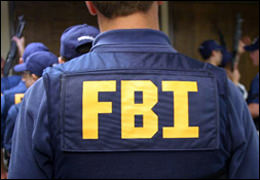 "An FBI agent was indicted Wednesday on allegations of lying to cover up his role in the shooting of militia leader Robert "LaVoy" Finicum in Oregon last year.
"Agent W. Joseph Astarita, a 40-year-old Hostage Rescue Team member, allegedly lied about firing twice on Finicum, who was shot to death in the course of an attempted arrest related to the militia's occupation of the Malheur National Wildlife Refuge in January 2016, reported the Oregonian. While Astarita's shots missed, two state police officers shot and killed Finicum just moments later, possibly triggered by Astarita opening fire first."
Unfortunately, we've been down this road before with a member of the Hostage Rescue Team shooting a civilian.
"Finicum is seen getting out of the truck and walking through the snow with his hands up in surrender. He then makes a move to reach into his jacket, where the FBI said he was carrying a gun. At that point, one of the authorities walks up out of the woods and shoots Finicum dead from behind.
"The state police officers were deemed justified in shooting Finicum, a verdict which remains unchanged by Astarita's indictment, according to Oregon U.S. Attorney Billy J. Williams."
If, indeed, Mr. Finicum was preparing to open fire on the police they were completely justified in shooting him while defending themselves. On the other hand, FBI agent Astarita's indictment clearly demonstrates that he did something for which he felt it necessary to cover up.
What people such as Astarita and Comey fail to understand is that the reputation of the many fine agents who serve honorably in the FBI is tarnished when they engage in questionable or illegal acts. In that sense those who serve with distinction are victims of the sort of behavior.
It may be that the FBI has a bit of the swamp in it that needs draining.
Source: Daily Caller
http://americanconservativeherald.com/fbi-boots/