Custom Search
WISCONSIN VOTES TO HIDE ALL GOVERNMENT ACTONS FROM THE PUBLIC
FW: July 5, 2015
A bill to hide government actions both large and small from public scrutiny is quietly making its way through the Wisconsin legislature.
A budget committee voted to approve the bill Thursday along party lines with only Republicans voting for it. It still must pass both houses and be signed into law by the governor.
The dismantling of Wisconsin's open record laws is unprecedented and would enable lawmakers to hide their actions from the media and the public. The bill would effectively draw a curtain over the government's actions as it would extend to legislative aids, committee hearings, oversight, and all communications even down to school board meetings.
Wisconsin Republicans on the Joint Finance Committee refused to say who proposed the bill.
Some activists, however, are crying foul.
Bill Lueders, president of the Wisconsin Freedom of Information Council, told the USA Today the bill would damage the democratic process.
"These radical and sweeping changes represent a full-frontal attack on Wisconsin's history of open government. They are clearly intended to block the public from discovering what factors drive the official actions of government, especially the Legislature, and will inevitably lead to abuse, malfeasance and corruption."
Other groups are also concerned about the Wisconsin government attempting to hide its action from an inquiring public.
These groups include: The Wisconsin Freedom of Information Council, Madison chapter of the Society of Professional Journalists, One Wisconsin Now, MacIver Institute for Public Policy and the conservative Wisconsin Institute for Law & Liberty.
This isn't the first time the Wisconsin government has attempted to hide its actions from the light of day.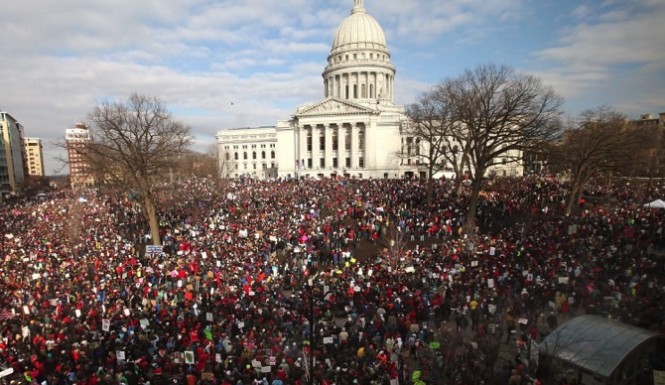 In 2013 lawmakers tried to remove the Wisconsin Center for Investigative Journalism from the University of Wisconsin-Madison campus.
The move to hide the dealings of the Wisconsin government come as Gov. Scott Walker is about to begin his bid for president and the bill would enable him to hide data on the state's job creation bill that has come under scrutiny.
Joel Christopher, vice president of news for Gannett Wisconsin Media, told the USA Today the move to hide the Wisconsin's government's actions moves the state in the wrong direction.
"Governing in secrecy strikes at the fundamental values of representative democracy. This proposal should be frightening and worrisome for all Wisconsin residents."
Other bills being considered by the Wisconsin legislature this year include removing worker's rights not to work weekends. Wisconsin is only one of 13 states requiring businesses to give workers one day off a week, but that could soon be a thing of the past.
http://www.inquisitr.com/2223882/wisconsin-votes-to-hide-all-government-actions-from-the-public/