Custom Search
Walker (WI) intends to charge citizens fee to protest
David Edwards
Dec. 2, 2011
Free speech is getting expensive in Wisconsin.
Following demonstrations earlier this year which drew up to 100,000 people to the Wisconsin Capitol, Republican Gov. Scott Walker has proposed new policies that would require future protesters to pay in advance to stage an event, at a cost of $50 per hour, per Capitol Police officer.
Police may also require a liability insurance or a bond, according to The Milwaukee Journal Sentinal.
Demonstrators will also be on the hook for any damage and cleanup following protests. Walker's administration had claimed that the pro-union protests earlier this year had costs as much as $7.5 million, but later admitted that the actual costs were far less.
Under the new policy, permits will be required for groups of four or more people who want to do any activity inside the Capitol. Groups of 100 or more gathering outside the Capitol must also apply for a permit 72 hours in advance. Police will have some leeway if unforeseen events lead to spontaneous gatherings.
American Civil Liberties Union of Wisconsin executive director Chris Ahmuty agreed with the state's allowance for spontaneous protests, but worried that some groups might have their right to freedom of assembly curbed because they could not afford to pay.
"It leaves too much discretion to the Capitol Police," Ahmuty told the Journal Sentinel.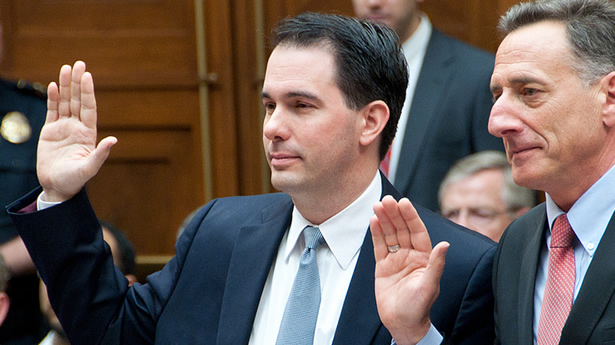 For their part, many activists are vowing not to be cowed by the new rules.
"This will only embolden people and get them to protest louder," Nicole Desautels, who participates in a daily pro-labor, sing-along protest, explained to The Chicago Tribune.
"We are exercising our free speech rights," Kimi Ishikawa, who also takes part in the sing-along, insisted. "Nothing will stop us."
Organizers said Monday that they had gotten half the signatures needed to force a recall election of Gov. Walker.
"Every day, every week and every month that goes by, the voters of my state will more clearly see the benefits of the [anti-union] reforms," Walker told the Republican Governors Association Thursday. "People have a clear choice."
http://www.rawstory.com/rs/2011/12/02/walker-looks-to-charge-citizens-fee-to-protest/