Custom Search
THEY CAME THEY MURDERED, THEY COVERED IT UP
Dave Hodges
May 9, 2013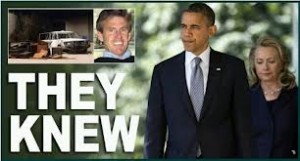 Hillary Clinton is a murderer and she has a long history of dead bodies which has followed her into the White House and beyond.Barack Obama was politically groomed by murderers, Bernadine Dorne and Bill Ayers from the Weathermen Underground, who were part of an organization which killed people including police officers. Dorne did time for her role in one of these murders. Obama is the modern day manifestation of the Bill Ayers inspired murderous organization.
Both Clinton and Obama conspired to murder Ambassador Stevens to cover-up Obama's version of Fast and Furious in the Middle East in which the CIA, through Ambassador Stevens, which provided weapons to al Qaeda, first in Libya and then Syria. America, with the true facts coming out, we have a read chance to rid ourselves of this criminal administration.
It has been established that rape and murder victim, Ambassador Chris Stevens, was also a CIA operative who helped arm al Qaeda in Libya to murder Kaddafi and to the al Qaeda rebels in Syria in an attempt to topple Assad. For that fact, he had to be murdered in order to protect the present criminal organization.
Hillary Clinton's Murderous Ways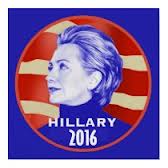 In a case of the more things change, the more they stay the same, the scope of Hillary Clinton's criminality cannot be covered in one article. In fact, I doubt that it could be covered in one book. The body count stories alone, associated with both Hillary and Bill, could fill volumes. By some estimates, the body count now tops 85 victims. Therefore, in the interest of brevity, a brief comparison will be made between the Clinton Whitewater affair and the Benghazi murders of Ambassador Stevens and three other Americans. The undeniable conclusion that the reader will draw from these two comparative cases is that Hillary Clinton, one the President's former top cabinet members, is, has been and probably always will be a sociopathic criminal with no conscience.
The Whitewater Body Count
Hillary Clinton is the Jody Arias of Capitol Hill. The stench of death follows her where she goes and the body count from the Whitewater affair, proves the point.
John Wilson was found dead from an apparent hanging suicide on May 18, 1993. He was a former Washington DC council member and claimed to have information on Whitewater at the time of his death.
Jon Parnell Walker was an investigator for the RTC who was looking into the linkage between the Whitewater and Madison Savings & Loan bankruptcy. Walker "fell" from the top of the Lincoln Towers Building.
Stanley Huggins was a principal in a Memphis law firm which headed a 1987 investigation into the loan practices of Madison Guaranty Savings & Loan. Stanley died in Delaware in July 1994 and the highly questionable reported cause of death was viral pneumonia.

Jim McDougal
Jim McDougal was a close friend of Bill and Hillary Clinton. He was also their banker, and political ally prior to being sent to prison for eighteen felony convictions for his Whitewater related actions. A key Whitewater witness, McDougal died of a heart attack on March, 8 1998, while, inexplicably, being held in solitary confinement. Solitary confinement? I thought high profile prisoners like McDougal went to Club Fed to serve out their terms, not solitary confinement. Of course, in solitary confinement, there are no witnesses to murder. McDougal was in position to have had intimate knowledge of Hillary's Whitewater affairs, but dead men tell no tales.
Johnny Lawhon died on March 29, 1998. The former Arkansas transmission specialist who discovered a pile of Whitewater documents in the trunk of an abandoned car on his property and turned them over to Ken Starr. Lawhon was killed in a car wreck two weeks after the McDougal death. Details of the "accident" have remained suspicious.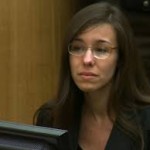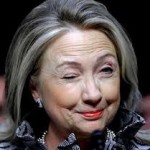 Hillary Clinton is the Jodi Arias of Washington DC.
Obama's Role In Benghazi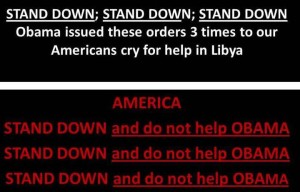 Obama was warned in advance of the coming attack in which Stevens begged for more protection and his impassioned pleas were denied by Clinton.
It is now clear that a drone was released to the scene of the murder of Ambassador Stevens and Obama and his staff watched as four Americans were murdered.
Obama later claimed that there was not time to launch a rescue mission. This is a blatant lie because if a drone can reach the scene and video the events, fighter planes could have reached the scene and intervened, which could have been followed up with a rapid deployment force trained in rescue. We now know that General Hamm, former commander of AFRICOM, against Obama's orders, was preparing to launch a rescue mission when he was arrested and relieved of command.
As Stevens was begging for help after the attack had begun, General Hamm had activated a special forces team within minutes of learning that the embassy, which was really a CIA safe house, was under attack.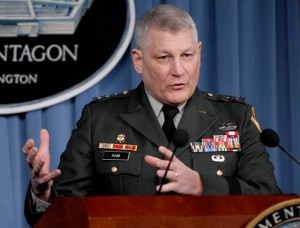 General Hamm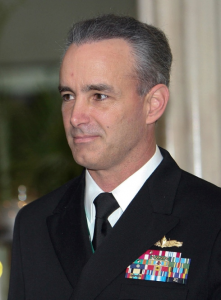 Admiral Gayouette
General Hamm and Admiral Gayouette understood their oath of office
When General Hamm received his "stand down" orders from Panetta on behalf of Obama, he defiantly made plans to go ahead with the rescue and was arrested within minutes of contravening the order by his second in command, General Rodriquez. Out to sea, Admiral Gayouette, the commander of Carrier Strike Group Three, was preparing to provide intelligence and air cover for General Hamm's rescue team in violation of his standing orders and he was promptly relieved of command for allegations of inappropriate leadership judgment." Both men are being held today in undisclosed locations. As an aside, if there is any kind of a silver lining in these very dark clouds it appears that much of the senior military leadership has had enough of the traitorous Obama and his den of corrupt criminals and some of them are willing to risk career in the name of actually serving the American people. America almost got its military coup.
The evidence is clear. Clinton and Obama knew that Stevens was in grave danger and should have ordered extra security. Obama refused to support Clinton, purposely leaving Stevens exposed. At this point, Clinton had a choice…… Does she go along to get along and become an accomplice to murder? Or, does she resign and refuse to go along with the murderous intentions of Panetta and Obama? Even if Clinton had resigned that should not have been enough to avoid criminal charges of depraved indifference by failing to report a crime that she knew was going to happen and then did take place in that Stevens was murdered to hide this administrations involvement in giving 20,000 stinger missiles to al Qaeda.
Clinton had both a moral and legal imperative to resign and then tell what she knew. General Ham and Admiral Gayouette are clearly men who understand their moral and legal imperatives. They refused to obey an unlawful and unconstitutional order. Clinton, true to her criminal background and history of inappropriate choices, chose to go along, to get along.
There can be no doubt that Clinton would have had limited options if she would have displayed the courage of Hamm and Gayoutte and refused to obey an illegal order from Obama through Panetta. I also understand that it would have been gut wrenching to decide where would she could have gone with this information? The logical choice is Eric Holder, the Attorney General. However, with Holder's complicity in Fast and Furious, Clinton would have known that Holder was not an option and that he is just as corrupt as Obama. She could not have gone to the FBI, because it is controlled by the President. Local law enforcement has no jurisdiction. Now, before you start to feel sorry for Clinton, please realize that Congress threw her a lifeline. Clinton's supporters have told me that her life would have been in danger, if she tells all to Congress, and my answer response is "You mean in the same way that Chris Stevens life was in danger?"
The Petraeus Affair
Hamm and Gayoutte are not the only ones whose careers were sacrificed over Benghazi. I have swamp land for sale, in Florida, for anyone to purchase if they are naive enough to believe that David Petraeus, former director of the Central Intelligence Agency (CIA), resigned solely based upon having an extramarital affair with the biographer-turned-mistress, Colonel Paula Broadwell. How did the affair compromise Petraeus' position as CIA director? The FBI has concluded that it did not.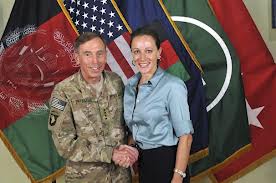 Patraeus and Broadwell
And for the head of a federal agency, or for a cabinet member, unless the affair can be shown to compromise national security, it does not end the careers of unholy partakers of the forbidden fruit while serving in high government office. Petraeus decided to quit, though he was breaking no laws by having an affair, officials said. Petraeus was fired as CIA director because he refused to participate in the cover-up of Chris Stevens murder by twisting and tainting the evidence which now squarely points back at the White House.
Clinton is still putting her political career and her loyalty to the democratic party ahead of her oath of office. Anyone, who has an IQ higher than room temperature, knows that Obama and Panetta let Stevens be murdered and their intent was deliberate. So, rather than doing the right thing, Clinton wants to appear to be protecting the President and ultimately the Democratic party. In my opinion, Clinton is taking the political bullet so she can retain support from her party in order that she can run in 2016 with full party support. Meanwhile, Obama and Panetta made a decision to let Stevens get murdered to make the trail of evidence go cold with regard to their illegal gun running operations to Al-Qaida, into Syria via Turkey, in this Middle East version of Fast and Furious. And Hillary simply goes along to get along.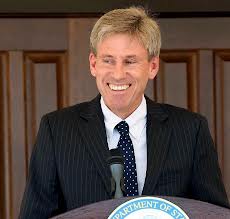 The Late Ambassador Stevens
At the end of the day, Ambassador Chris Stevens along with Sean Smith, Glen Doherty and Tyrone Woods were killed in a planned terrorist attack in Libya on the 11th anniversary of 9/11. Some of the four victims families render a harsh verdict of the Obama Administration. Sean Smith's mother. Patricia Smith, has said that the president 'murdered her son' and Tyrone Woods' father has echoed her sentiment. And Hillary went along to get along while she did Obama's bidding.
The Door of Opportunity Knocks Again
Rarely does a hunter get a second good shot at big game. Fortunately, the American people has one more shot at getting Obama removed from office. Benghazi is Obama's Watergate. Benghazi is Clinton's Waterloo. The American military, at its top field command level, demonstrated that is ready to commence a military coup against this illegitimate President and his co-conspirators in murder. Everyone needs to call their Congressmen and demand justice for Stevens. However, the coming military coup cannot stop with Obama and Clinton. Every banker from Goldman Sachs, Wells Fargo, Band of America, JP Morgan and any other dirty corporate official, past and present, (e.g. Hank Paulson, Peter Sutherland, etc) needs to be rounded up and placed in the same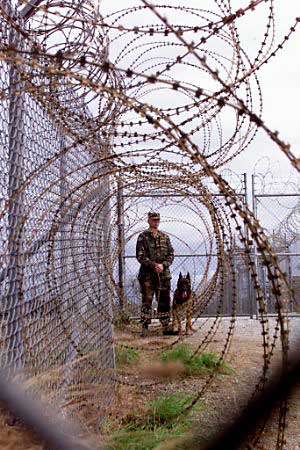 FEMA camps that they have readied for us. This is a short window and if you military types are ready to save the country, now is the time to continue what was started at Benghazi.
I am convinced that there are other General Hamms' who are willing to do the right thing.
Ask yourself, if this administration is willing to murder an ambassador in order to cover their dirty tracks, what are they willing to do to you and me?
http://www.thecommonsenseshow.com/2013/05/09/they-came-they-murdered-they-covered-it-up/