Custom Search
HACKER EXPOSES NAZI SS OFFICER GEORGE H.W BUSH EMAILS
The Unhived Mind - UHM
February 8, 2013 3:53 pm
TheUnhivedMind
1 Comment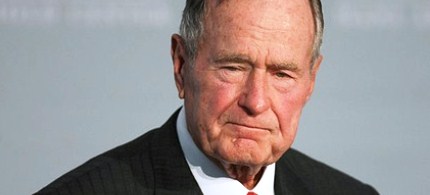 Former President George H.W. Bush. (photo: unknown)
8 February 2013 Last updated at 10:08
http://www.bbc.co.uk/news/world-us-canada-21380393
Hacker exposes ex-US President George H W Bush emails
A computer hacker has stolen personal emails and photographs belonging to former US President George H W Bush and his family, US media report.
One photograph posted on the internet showed the 88-year-old Republican politician in bed in hospital, where he was recently treated for bronchitis.
The stolen emails are reported to include addresses and personal details of several members of the Bush family.
A spokesman for Mr Bush confirmed that an investigation was under way.
"We do not comment on matters under criminal investigation," Jim McGrath told the Houston Chronicle.
The hacker broke into email accounts of several members of the Bush family, news website the Smoking Gun reported.
The hacked emails are reported to include messages expressing serious concern about the health of the former president, including a personal note sent by President Barack Obama through an aide.
'Interesting mails'
Mr Bush was discharged from hospital on 14 January after a seven-week stay, during which he was treated for a bronchitis-related cough.
The purloined photos include pictures of his son, former President George W Bush.
One shows the younger Mr Bush posing beside a life-size cardboard cutout of himself with a moustache drawn on it; others are said to show paintings by him, including self-portraits.
The Smoking Gun said it had been in contact with the hacker, who goes by the alias Guccifer.
He said he had taken "a lot of stuff" including "interesting mails" about the former president's time in hospital, the website reported.
George H W Bush was the 41st US President, serving one term from 1989-93. He was defeated by Democrat Bill Clinton when he stood for re-election.
Before becoming president he was Ronald Reagan's vice-president from 1981-89. He also served as vice-president, CIA director, US ambassador to China and congressman from Texas.
His son George W Bush served as 43rd president from 2001-09.
http://theunhivedmind.com/wordpress2/?p=16324
TheUnhivedMind on February 8, 2013 at 3:59 pm said:
George H.W. Bush is a Nazi SS officer continuing the Nazi agenda through the Deutsche Verteidigungs Dienst operation that hides with the Directorate for Intelligence division of the Central Intelligence Agency. Bush has run this hidden Germanic organization for the last thirty-four years or so after Henry Kissinger. May I remind you that both are Knights of Malta serving the Temporal Power of the Pope leading the new Holy Roman Empire (Congress of Vienna/Treaty of Verona). Bush's real name is Sherff he was not the son of Prescott Bush. May I also remind you that Honorary Knight of Malta, Ronald Reagan could not stand George H.W Bush and did not trust him in the slightest. Bush is the biggest drug kingpin in the Americas and one of the biggest in the World behind King Juan Carlos of Spain who controls the whole drugs trade from South Americas to Far East to the Middle East and Sicily.
Now this article above could be a man-in-the-middle setup story in order to get people to believe that George H.W Bush was really ill when in fact he was up to his devious tricks. U.S. intelligence always use the hospital and illness routine when they are up to something they should not be or someone is after them for their criminal behaviour. Be careful how their media manipulates you.
-= THe Unhived Mind
Photo: http://readersupportednews.org/news-section2/317-65/15930-focus-george-w-bushs-email-account-hacked?tmpl=component&print=1&page=