Custom Search
Hillary Refuses To Release Her Tax Return & Hillary's Treasonous Gift From The Emir
Tom Heneghan
HILLARY REFUSES TO RELEASE
HER TAX RETURN
AND
HILLARY'S TREASONOUS GIFT
FROM THE EMIR
by Tom Heneghan
http://2008central.net/wp-content/uploads/2007/07/hillarymoneymachine.jpg
It can now be reported that Blackstone/Blackwater Associates tied to the Bush-Clinton-Romney-Bain Capital corporation located in the Cayman Islands is a major campaign contributor to the UNELECTABLE Hillary lesbian IN-THE-CLOSET Rodenhurst Clinton.
http://unitedcats.files.wordpress.com/2007/07/blackwater_mercenaries.jpg
Blackwater mercenaries in New Orleans
after Hurricane Katrina
terrorizing American citizens
http://www.nppa.org/news_and_events/news/2005/09/images/katrina_D2_swat_team.jpg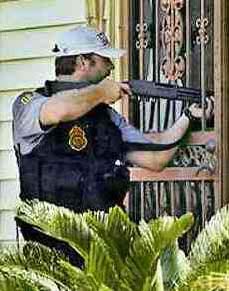 http://www.indymedia.ie/attachments/jan2007/blackwater_mercenary_in_new_orleans_1.jpg
Blackwater mercenary terrorizing American citizens
in New Orleans after Hurricane Katrina
Reference: The Bush Administration used Blackstone/Blackwater Associates mercenaries to terrorize American citizens of New Orleans, Louisiana during the Katrina Hurricane crisis.
IT IS GETTING WORSE FOR THE UNELECTABLE HILLARY.
Hillary Clinton's failure to release her tax return is an attempt to hide MILLIONS of dollars of UN-REPORTED interest ILLEGALLY earned by both Clintons from SECRET OFFSHORE CIA proprietary accounts in the Cayman Islands, Bahamas and Grenada.
Reference: The "Queen Melusina" account.
IT IS REALLY GETTING WORSE!
Related:
Per NBC's Andy Merten, Clinton said at her press conference today: "I loaned the campaign $5 million from my money. That's where I got the money. I loaned it because I believe very strongly in this campaign. We had a great month fundraising in January, broke all records, but my opponent was able to raise more money. And we intended to be competitive, and we were. And I think the results last night proved the wisdom of my investment."
http://firstread.msnbc.msn.com/archive/2008/02/06/644157.aspx
It can now be divulged that Hillary's $5 MILLION LOAN, given to her campaign by Hillary herself, ties back to a gift she received from the Emir of the United Arab Emirates (UAE).
http://www.arrivelasvegas.com/Boxes/47943-Thanks-A-Million.jpg
http://www.uaeconsulate.com.tr/ing/resimler/uae.gif
This story was originally reported by Dick Morris of FOX News.
TAKING GIFTS FROM A SOVEREIGN IS CONSIDERED TREASON UNDER THE U.S. CONSTITUTION
Constitution of the United States
We the People of the United States, in Order to form a more perfect Union, establish Justice, insure domestic Tranquility, provide for the common defence, promote the general Welfare, and secure the Blessings of Liberty to ourselves and our Posterity, do ordain and establish this Constitution for the United States of America.
Section. 9.
No Title of Nobility shall be granted by the United States: And no Person holding any Office of Profit or Trust under them, shall, without the Consent of the Congress, accept of any present, Emolument, Office, or Title, of any kind whatever, from any King, Prince, or foreign State.
http://www.archives.gov/national-archives-experience/charters/constitution.html
Federal officials may not accept a gift, office, payment, or title from a foreign country without the consent of Congress.
http://usinfo.state.gov/products/pubs/constitution/constitution.htm
http://www.samliquidation.com/images/Emir_of_Kuwait.jpg
And, of course, it was former President George H.W. Bush that received a necklace, i.e. the "Kuwait Necklace", as a gift from the Emir of Kuwait for Bush's role in Gulf War I.
One last note: Guess who helped transport the "Kuwait Necklace" to the United States on behalf of then president daddy Bush.
<b style="" font-size:="" 14pt;="" color:="" teal;="">
http://www.leftlion.co.uk/images/1/Image/7july20052.jpg
http://www.paulsjusticeblog.com/pics06/7-8londonterrorism.jpg
None other than Bush-Clinton-Romney business partner and 7/7 London bombings terrorist suspect, the current fraudulent CEO of Marvelous Investments EVA TELEGE aka TELEKE aka TELEKI.
P.S. Former Speaker of the House Tom Delay, Republican of Texas, basically endorsed UNELECTABLE Hillary for president today -- Delay says he will not vote for McCain.
http://www.cnn.com/US/9807/24/dc.shooting.03/delays.office.jpg
http://www.cnn.com/US/9807/24/dc.shooting.03/story.gunshots.jpg
2 dead, 2 hurt in U.S. Capitol shootingBystanders flee from the Capitol building after shots are fired
http://www.cnn.com/US/9807/24/dc.shooting.03/
Reference: Delay was almost assassinated in his Congressional office at the House of Representatives in 1998 when a shoot-em-up was conducted by a Bush-Clinton "TRUE COLORS" Crete, Illinois mercenary-type.
At the time, Delay was threatening to include the Bush-Clinton "TRUE COLORS" assassination manuscript in the 1998 Clinton Impeachment Trial.
So, I guess Delay prefers Hillary to run the Justice Department than John McCain.
http://www.pimall.com/NAIS/BADGES/britishintel.jpg
http://blogs.abcnews.com/photos/uncategorized/2007/10/01/blackwater_ncarolina_main.jpg
http://www.commondreams.org/archive/wp-content/photos/0413_05.jpg
ITEM: BLACKSTONE/BLACKWATER ASSOCIATES IS A KNOWN BRITISH INTELLIGENCE OPERATION WITH AT LEAST SIX MAJOR OUTPOSTS ACROSS THE UNITED STATES.
P. P. S. Impending briefing to deal directly with the intelligence agency links of Hillary's traveling IN-THE-CLOSET lesbian lover Huma Abedin.
. . .
NoHillaryClinton.com
http://www.nohillaryclinton.com/
KnowHillaryClinton.com
http://www.knowhillaryclinton.com/
http://www.oldamericancentury.org/dissent2.jpg
Reference: TRAITORS the Bush-Clinton Crime Syndicate
We have a reservation for them at
Lafayette
Park
where new
TREASON guillotines
have arrived from
France
.
Guillotines

await

HIGH TREASON
IF IMAGE DOES NOT APPEAR USE THIS URL
http://www.nohillaryclinton.com/blog/blog_images/HRCquotes.jpg
GOD BLESS AMERICA, LAND THAT WE LOVE
At this hour we urge ALL PATRIOTIC AMERICANS to remember the work of our Forefathers,
with our Republic on the verge of collapse, we send out the words
http://unitedstates.fm/pics/AADD017.jpg
(vahistorical.org)Lafayette rallying troops at the
Battle of Brandywine
as General George Washington and General Lafayette remain at Brandywine,
we continue to identify the enemies of the American republic and the American Revolution in the 21st Century and annihilate them.
SIGNIFICANT INTELLIGENCE BRIEFINGS:
DEMOCRATIC NATIONAL COMMITTEE CHAIRMAN HOWARD DEAN AND UNELECTABLE HILLARY THREATEN PRESIDENTIAL CANDIDATE SENATOR BARACK OBAMAhttp://blog.myspace.com/index.cfm?fuseaction=blog.view&friendID=147509065&blogID=355596040
THE TINLEY PARK, ILLINOIS 911 CALL
AND THE BUSH-CLINTON ASSASSINATION OF THE LATE GOVERNOR OF MISSOURI MEL CARNAHANhttp://blog.myspace.com/index.cfm?fuseaction=blog.view&friendID=147509065&blogID=354559253
UNELECTABLE HILLARY AND HER PARTNER EVA TELEGE aka TELEKE aka TELEKI EAST GERMAN DVD AGENTShttp://blog.myspace.com/index.cfm?fuseaction=blog.view&friendID=147509065&blogID=353981455
UNELECTABLE HILLARY AND MITT ROMNEY'S "JOINT" BANK ACCOUNThttp://blog.myspace.com/index.cfm?fuseaction=blog.view&friendID=147509065&blogID=351618808
Fitzgerald probe: Sen. Clinton withdrew stolen funds from Grenada bankby Tom Flocco
http://www.tomflocco.com/fs/SenClintonGrenada.htm
HILLARY'S MOSSAD NEW JERSEY SLUSH FUND
http://blog.myspace.com/index.cfm?fuseaction=blog.view&friendID=147509065&blogID=350823072
BREAKING UPDATE ON BUSH-CLINTON CRIME SYNDICATE BAGMAN, ZIONIST MOSSAD AGENT MARC RICH
http://blog.myspace.com/index.cfm?fuseaction=blog.view&friendID=147509065&blogID=351268941
. . .
blog.myspace.com/tom_heneghan_intel