Custom Search
We're alright Jacques! Germany prospers as Spain, Italy Portugal and France face ruin
Nick Gutteridge
Published July 23-Aug 11, 2016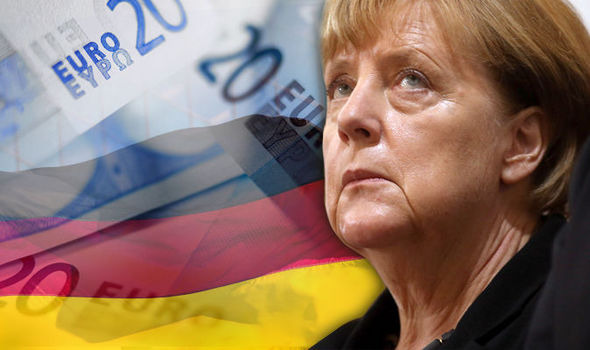 EUROPE faces a "bleak" economic future in which Germany and Scandinavia boom but the rest of the continent spirals downwards into stagnation and ruin, according to new research.
A new survey has revealed the stark economic differences which divide Europe

A survey of voters in Eurozone nations has revealed how there are stark differences between the prosperous north and impoverished south as the gulf between the winners and losers of the single currency experiment grows ever wider.

In booming Germany, whose exports have been propped up by the relatively weak value of the Euro, three quarters of people feel optimistic about the state of the economy and the country's future.

But at the other end of the scale there is Greece, where only an abysmal two per cent of the population feel that the financial system is working in their interests.

When mapped the results of the poll reveal how Europe has been split into two continents by the Euro, with growing bitterness over the divide between the 'haves' and the 'have nots'.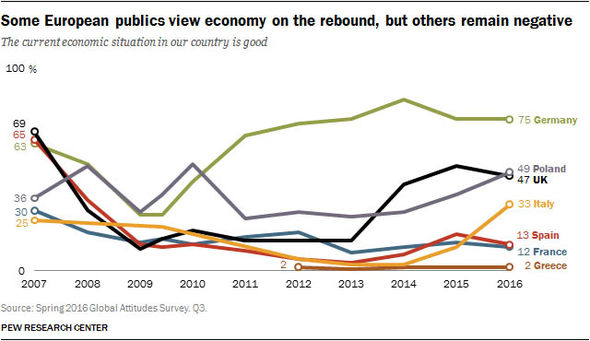 Polling shows Germans are optimistic about their economy, but much of southern Europe is 'bleak'

The survey also found that the confidence in the Euro economy was fragile even before the Brexit vote, with most voters already depressed about the state of the continent's finances.

It reveals that the most confident societies in Europe are in Sweden and Germany, where 76 per cent and 75 per cent of people respectively believe the current economic situation is "good".

But in other big EU countries the results are starkly different. An astonishing 86 per cent of French people feel their floundering economy is doing badly - the same figure as for Spain and two-thirds of Italians are dissatisfied with sluggish growth.

In Britain the split is exactly even, with 47 per cent thinking the UK's economic situation is good and the other half stating that the outlook is bad.

The survey was carried out between April 4 and May 29 this year - before Britain's historic vote to leave the European Union.

Pollsters from the respected Pew Research Center, in the US, said that the results belied the "considerable economic gloom" still Engulfing Europe eight years on from the banking crisis.

The figures paint a "bleak picture in parts of Europe" including Greece, France and Spain, but added that the "gloom is not shared by all" citing the Swedes, Germans and Dutch as being more upbeat.

They said: "Even before the Brexit vote caused economic turmoil, Europeans generally took a depressed view of the economy. In seven of the 10 European countries surveyed, roughly half or less see their country's economic situation as good."

The survey also revealed that European countries with right-wing governments are more likely to feel upbeat about their economic futures than those with left-wing leaders.

They noted that in Hungary, where the right-wing Fidesz party controls Parliament, 53 per cent of right-wing voters feel that the economy is robust, whereas only 24 per cent of left-wingers feel the same.

The poll reveals the huge political and economical divides which are stoking up resentment against Brussels and threatening to derail the entire EU project.

Voters in Italy and Hungary are both expected to give the Euro elite another kicking when they go to the polls in separate referendums this year on starkly separate issues.

Hungarian voters will decide whether or not to accept EU migrant quotas whilst Italians will vote on domestic reforms in a referendum which, if they use the ballot box to take revenge on Europe, could force Prime Minister Matteo Renzi to resign.

And the situation has got so desperate that a number of powerful EU countries including France, Spain and Italy are spearheading a new splinter group of Member States attempting to put an end to Berlin imposed austerity.

SEE VIDEOS

http://www.express.co.uk/news/world/698547/European-Union-Germany-economy-Eurozone-bleak-Brexit